LukeJacob* is a cool salon located right beside Spitalfields market that I stroll past on a regular basis. Drawn in by its forever changing quirky signage and convenient location I have often been tempted to book an appointment but was held back by my fear of hair salons.
This stems from the fact I leave such long periods between getting my hair done at a professional salon. It gets to the stage where I feel too embarrassed to go back to my previous hairdresser and also don't want to burden a new stylist with my frazzled locks.
On this occasion Sara had kindly introduced me to salon owner Luke by email so I had the opportunity to explain the state of my hair. He seemed up for the challenge so on Friday morning I took the short trip along to Aldgate East station to finally get my hair fixed.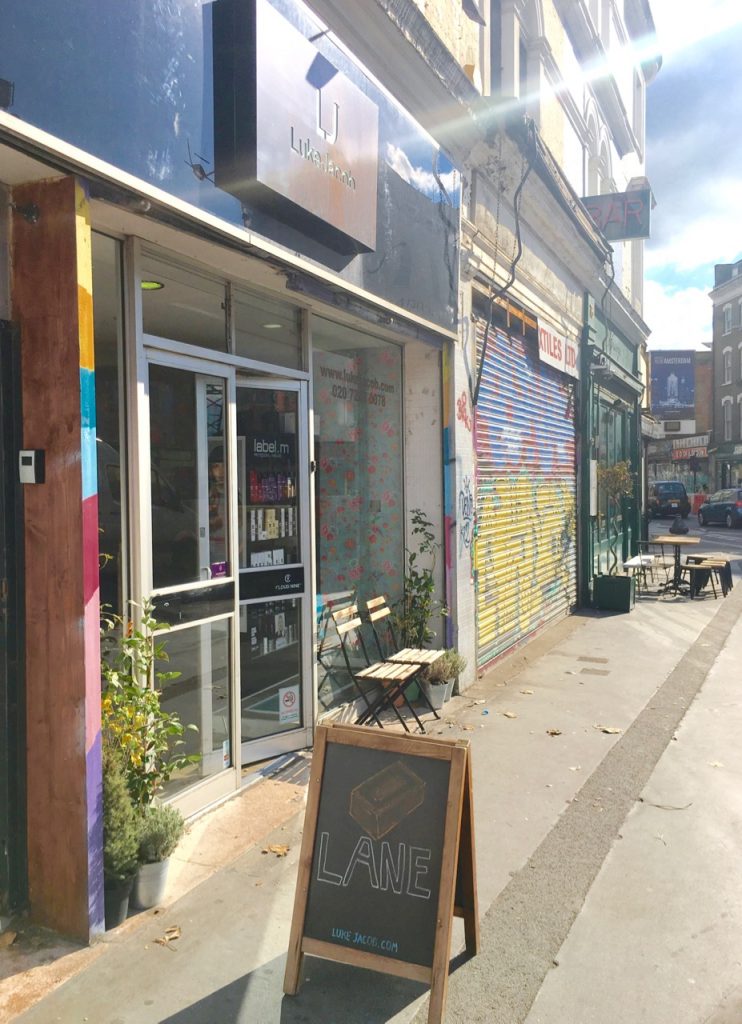 As soon as I arrived at the brightly lit salon I was warmly greeted by Luke and Sofia who would both be working on my new look. Taking a seat, we chatted through what I liked with the help of my Pinterest hair inspiration board and decided what would be achievable.
Starting off with colour, Sofia stripped back some of the lingering green from my faded out ends to try and get the truest blue possible – something I had been struggling to obtain at home. Throughly washed, the fresh blue colour was placed in sections with precision. She was incredibly easy to chat with and though it was a long application process the time flew by.
Whilst I waited for the colour to develop, I was offered a wine or beer but since it had only just turned 12 I decided to be sensible and stick with a soft option. Sipping on a strong black coffee and flicking through the latest fashion magazines other customers filtered in and out of the salon. Many of them seemed to be regulars and came in for a chat as much as they did a trim.
Time up I was ready to get rinsed in the comfiest basin set up I have ever experienced. As the excess colour was washed off my hair I felt so relaxed that I could have happily fallen asleep.
Next up was the cut – which always fills me with dread. I have been trying to grow my hair for what seems like forever but it just does not seem to cooperate.
Knowing I would have to get a fair whack off the ends due to home bleaching and general neglect I was prepared, but still anxious. Whilst Luke got to work we chatted about our passion for travel, our favourite East London hangouts and his hairdressing career – which spans 15 years and a huge range of varied clientele.
Soon it was time for the big reveal, Luke took the time to blow dry my hair professionally leaving me looking much more glam than my usual grungy, unwashed mop.
LukeJacob stocks Label.M products, a range developed by professional stylists and the official haircare product of the London Fashion Week. An entire catalog of their products were used to resurrect my hair including: Colour Stay Shampoo and Conditioner, and the Power Dose Conditioning Treatment. These were followed by styling aids, Protein Spray (a super lightweight detangler and leave-in conditioner), Thickening Cream, Volume foam, a Texturizing Volume Spray and, finally Rejuvenating Oil Mist to add a glossy shine.
I usually keep products to a minimum as I hate my hair feeling weighed down; I know the amount used may sound like overkill but despite having so many products in my hair it still felt lightweight and soft.
So many times I have left the salon feeling tense after awkward staged conversation and paying for a style that was nice but just not very me. This was the opposite from my experience LukeJacob, I felt welcomed, listened to, and in safe hands. Leaving the salon instead of doing my usual run home to wash my hair before heading out I was desperate to show off my new style.
LukeJacob was laid back yet very professional and I can completely see why so many customers have become regulars.
80 Commercial Street,
Spitalfields,
London,
E1 6LY
* This experience was complementary but as always all views are honest and my own .