Today I joined the Women's March in London and though I went alone I could not have felt more part of something.
I expressed my view on Trump winning the election fully in my
Love Trumps Hate
post and since then I have worked through feelings of sadness, anger, outrage, fear and disappointment. I have also had time to think about what I am going to do about it, I don't have an exact plan but I know I can not longer sit back an watch the world fall apart around me. That is why today I felt compelled to join my sisters around the world in marching for our rights. This was a women led march but welcomed all in an international act for the protection of fundamental rights and freedoms that are under threat.
Getting off the tube at Bond Street station I turned down a side street and was met with a wall of people holding signs waiting patently to begin our walk to the US embassy then onwards to Trafalgar Square.
Crowds normally make me extremely anxious but as we began to move down the narrow streets to join the march I never once felt overwhelmed, everyone was respectful and we slowly made our way together as one.  This feeling of unity was one of the over riding themes of the day, people off all ages, genders and races took to the streets in an act of solidarity.
Many think that these protests will not change anything but I believe in HOPE over fear and think that when we come together it shows strength and that we the people do have power. In London alone 100k people walked together shoulder to shoulder, in the freezing cold, that is something that cannot be ignored.
Sitting writing this only an hour after leaving the celebration at Trafalgar Square I cannot quite comprehend what took place, but it really did feel like the start of something – good or bad only time will tell.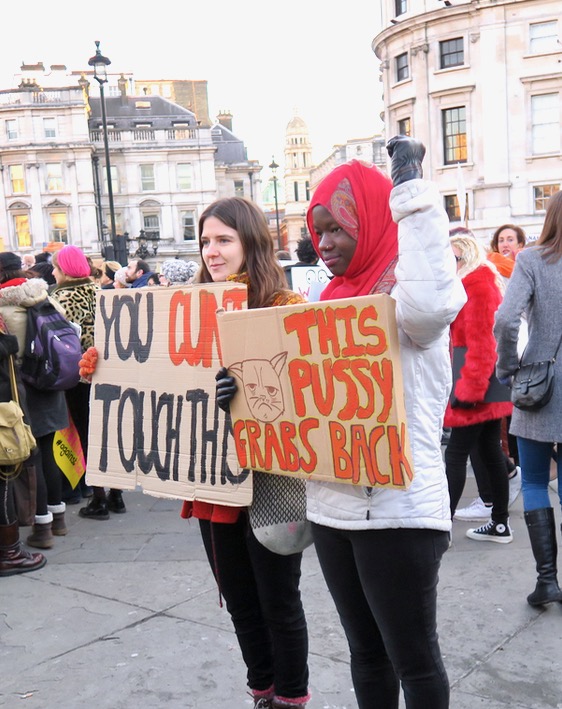 As you might be able to tell I do not yet have the words to express what happened today or what may happen in the future, it's all too raw and uncertain but one thing I do know is that for the first time in a while I feel strangely hopeful.