Travel really is my one true passion in life and is where I feel most inspired. This is true even when it comes down to my fashion choices. Though my personal style has roots in rock music, biker, and skate styles I always take a little bit of a place away with me.
Visiting Texas was a dream for me; obsessed with Westerns as a child I even had my own rocking horse called BraveStarr who I sat on for hours pretending to ride through the plains of Texas.
My first foray into Western fashion was when I was 7, we went to Florida for the first time and I was determined that I was having white cowboy boots with spurs because that's what all Americans wore. By some miracle we found my dream boots, I then got the hat to match and later, much to my mum's dismay, a gun with a leather holster to complete my look.
Now, as an adult, I am very anti-guns however the adventure and spirit of the Wild West still fills me with intrigue. Driving through the Lone Star State during our US Adventure my excitement reached its peak and I couldn't believe I had ventured into the scenes that were the setting of so many of my imaginary adventures when I was a child.
Watching the scenery fly past the window time passed quickly and soon we reached our only Texas stop off, Austin. If you read my travel diary you will know how much I fell for Austin. The city was utterly charming, with friendly yet tough locals, an independent spirit, and an awesome art scene.
One of my highlights from our three night stay was visiting The White Horse, Austin's largest honky tonk bar where modern and old Texas merge together in perfect harmony with its mix of music, patrons, and styles. I was surrounded by people effortlessly rocking cowboy boots, hats, and denim – which totally inspired me to add a little country back into my own style.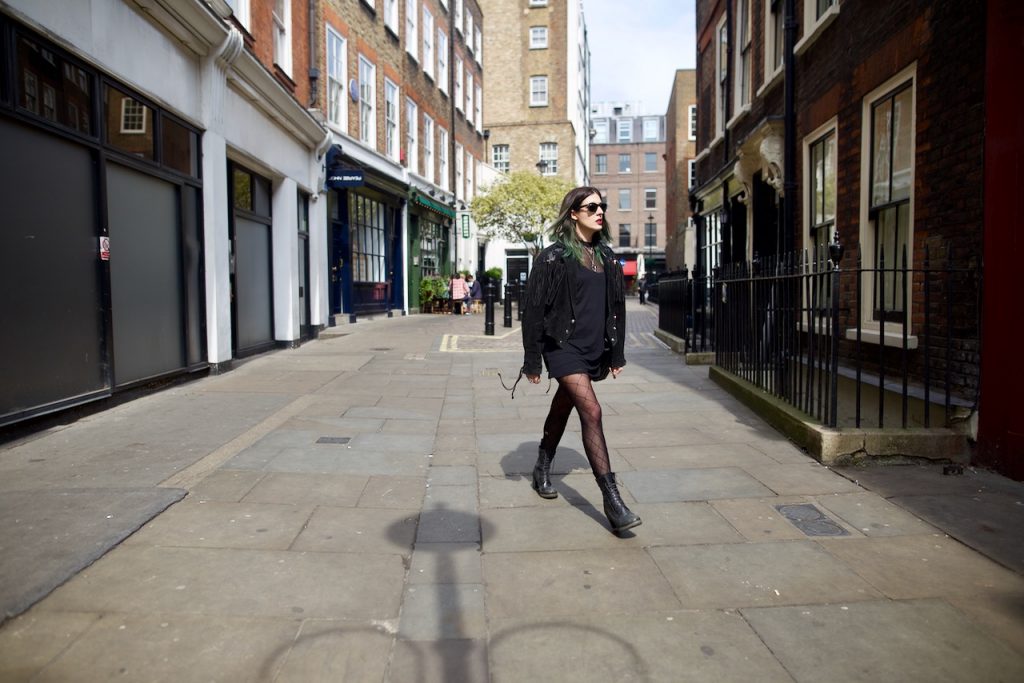 This was the the start of a two week mission of going into every boot store in Texas, Nashville and Memphis to try and find the perfect pair of cowboy boots and though I found a pair of 'Handmade Fancy Boots' in Heritage Boots in Austin, they were so far out of my budget I had to leave them behind. Nothing since has really lived up to the perfection of those handmade in Texas boots so, for now, I will just have to save up for my next trip.
Despite being bootless, elements of western style have made their way back into my everyday look.
I have added a new  new piece of jewellery that I love so much I refuse to take off to my collection. This Texas Longhorn* necklace from CarterGore allows me to carry a piece of our trip with me everyday and comes from a great little independent company with roots in tattoo culture. Each piece begins with a hand drawn sketch, then is crafted with a mixture of traditional silversmithing techniques and the latest laser engraving technology to create beautiful delicate jewellery with a tough edge. 
To add to the western theme I was also inspired to drag this vintage jacket out of my wardrobe. I originally bought it in 2015 to signify Elvis's 80th birthday, and after visiting Graceland in Memphis it seemed like the perfect time to crack out the tassels again and rock a little suede.
Underneath the quirky vintage jacket I went a little more basic teaming these pieces with a Primark vest, layered under a Monki sheer dress, my trusty Dr Martens, and Classic Raybans. I love mixing different styles and inspirations to create a look that is new yet still distinctly me.
Where do you guys get style inspiration from?
 *This item was gifted to me but, as always, all opinions are honest and my own