Since my first monthly roundup my life has kind of amped up a notch. I said goodbye to my full-time job and hello to the world of being my own boss – which has already been a quite the learning curve. I knew that I had a lot to do to get my little gothic greetings cards business off the ground, but right now I feel like for every one thing I tick off the my to-do list I add another five; despite feeling like I am treading water at the moment I am convinced that all my hard work will pay off at some point.
The above I was prepared for, but what I hadn't planned for at all was getting engaged! I still can't quite believe it's really happening! Of course, I am beyond happy that Pablo proposed but it does feel like there is a weird wedding shaped pressure cloud bubbling above my head. It feels like I am continuously being asked questions that I don't have the answer to, because I never thought I would get married. The more I think about the wedding itself the more I wish we had just got hitched in Vegas back in January.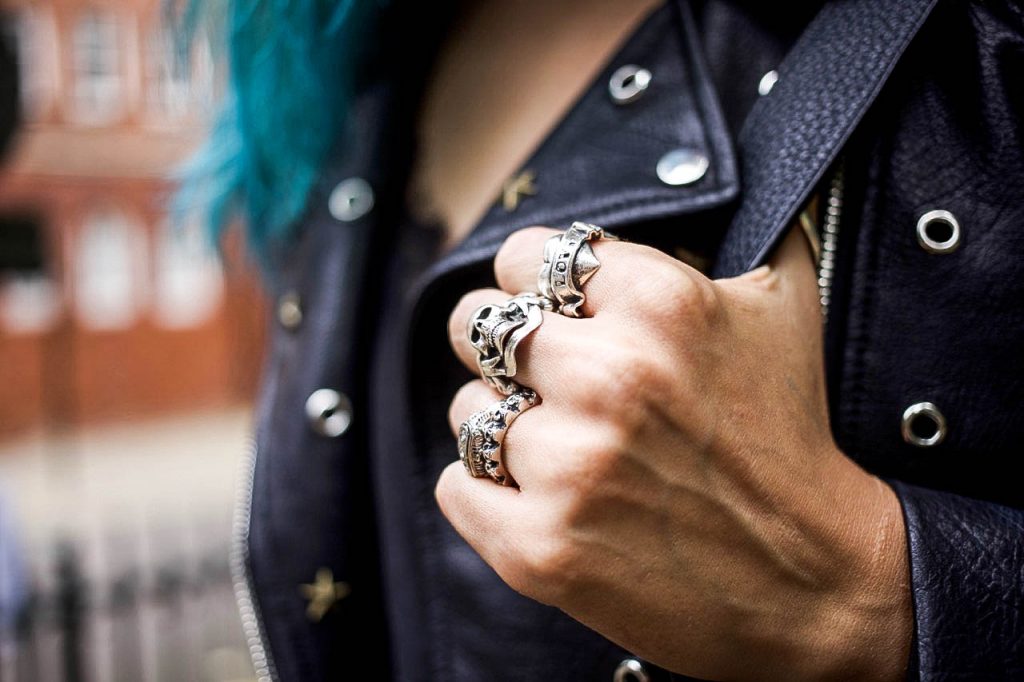 I think maybe I feel extra unsettled this month because it's that weird period at the end of summer where the weather is still hot but they sky is grey. I love summer but I am now so ready for Autumn to show up, with it's crisp weather and brown leaves, so I can crack out my leather clothes and boots which I've not seen for months! Also, autumn means halloween – my absolute favourite holiday!
Now you've had a roundup of my stress levels, let's get onto the good stuff: what I have been buying, and doing, over the past few weeks;
Fashion
In this period of seasonal transition, outfit choices can be tough. Currently I am wearing a mashup of summer and autumn staples: hotpants (New Look), strappy top (H&M), and shades, teamed up with tights, a leather jacket (Zara), and my shiny new Dr Martens seem to be a winning combo for whatever the weather decides to throw at me. 
One thing I do love about the end of summer is the epic sales which is where I picked up 90% of the outfit in this post! I have made some big orders from Zara, H&M and Boohoo but honestly, apart from Zara, most of it got sent back due to completely bizarre sizing. H&M is the worst culprit; I kept a skirt in a size 8 and the top in these pictures is a size 16 – how can they differ so dramatically?
Most of this outfit is now sold out, but below I've hunted out some similar items if you do wanna pick up any of the pieces I am wearing.
On top of these sale bargains I couldn't resist doing a little shopping in New York, so popped into one of my favourite thrift stores: Beacon's Closet in Williamsburg, and picked up a pile of awesome designer bargains.
I am not going to go too indepth on what else I have been buying as many of the pieces are featured in my Coney Island lookbook. This video I am particularly proud of, it took loads of planning and hours of filming in the rain, but has almost exactly the look and feel I wanted.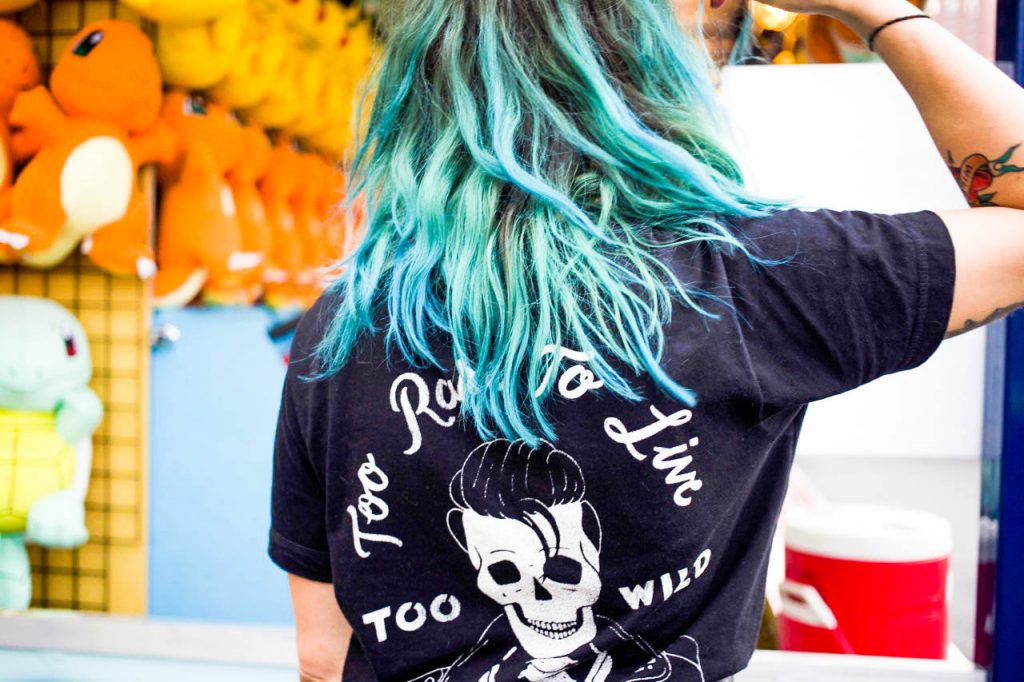 In other fashion related news, some of my favourite brands including P&Co (t-shirt in above image), Lazy Oafs and Spectrum Brushes have been hit by a devastating fire at their warehouse – so when they are back up and running as normal I'm going to make a few purchases to show my support, and because they are awesome.
Another shop that I am very tempted to make a purchase from is Weekday which has just opened its first UK store on Regents Street. Weekday does simple style perfectly, and is a store I HAVE to binge on every time I visit Europe.
OK, I know I don't have a job, and you're probably wondering how I am going to be able to afford to shop. The short answer is I am going to sell a huge whack of my old stuff. I love having a seasonal clear out and have bags of stuff ready to go on eBay!
Beauty
I usually go crazy for beauty when I am in the states, but with so many brands now being available in the UK there seemed less of an urgency than usual, so I only picked up a few bits from Tarte and Milk Cosmetics, which was uncharacteristically restrained. If you want to see the full scoop on my latest beauty purchases, check out my favourites video.
I also have to mention Urban Decay; if you have been around here a while you will know that barely a month goes by without me raving about something from Urban Decay so when a purple metallic envelope filled with ALL their Naked palettes dropped on my doorstep I was absolutely fucking elated!
I know that some people will be like "why the hell is she getting expensive makeup sent to her she's got, like, no followers", but I honestly believe it's down to two reasons:
1. Brands are catching on that it's easy to buy followers, but having an engaged audience is much more valuable.
2. I could write about every opportunity which comes into my inbox and progress much quicker, but that's not my style; the purpose of this blog is to share things I love which is why Urban Decay are mentioned so much on here and on my YouTube channel.
Being genuine creates a unique narrative which makes you stand out from the crowd and, I believe, pays off in the long run.
I have also finally had my hair redone. The blue was a faded green clinging onto the tips for dear life so I was so grateful that my mum treated me to another trip to awesome Shoreditch salon, Luke Jacob. Not only did the team do a great job on my neglected hair but also made me feel like an especially valued customer by bringing me in birthday cupcakes. It's always a pleasure going into the homely salon, I need to make sure I make the trip more often.
I don't really know what category this goes under but I also got two new tattoos since my last update.
Firstly I returned to Martha Smith in Peckham to get a bee as a permanent reminder to my connection to Manchester and my family there.The Second is an old school heart and banner tattoo from Benjamin at Allied in Brooklyn; this one is to mark 10 years running wild with Pablo. Both are very different in style, but I love them equally.
Travel
I don't know if I have told you already (*sense sarcastic tone*) but I went to New York the first week in August. If you want to see what I got up to, I did a full weekly vlog and there are a whole bunch of posts coming soon…
It was honestly the most magical trip. Staying in art covered Bushwick was super inspiring, but returning [to London] has been difficult to adjust. I do love London but it feels like the city is covered in a blanket of negativity and there's a constant battle to be fought here. I know that New York is also a tough city, however the attitude is different and it makes anything seem possible.
We also had an unexpected trip to Scotland to sadly attend Pablo's Granny's funeral. Though we were back in Edinburgh for such a sad reason it was a very dignified send off that I am sure she would have approved of.
On a happier note, we are returning to the homeland next month taking a mini tour to see friends in Edinburgh, Glasgow and Dundee before heading further North to spend a few days on the Isle of Lewis with Pablo's family. The drive back down south is crazy long, even for road trip pros like us, so we stopping off in Newcastle on they way back. I haven't had a trip to the 'Toon' in years, and I can't wait to see how the city has changed.
We also took a quick trip to Cambridge to celebrate my cousin's wedding which was set in the absolutely stunning Clare College. It was our first visit to Cambridge and though it was idyllic and filled with history as expected, there were a few more positives surprises – like the food! Who knew Cambridge had so many awesome vegan options, Stem and Glory and Espresso Library were great options for fueling up before the big day. The day after the nuptials we gathered at The Granta pub, a brilliant riverside location where you can go for a punt or simply enjoy a pint.
The UK has many stunning places to visit, but getting on a plane just adds another element of adventure – so I've crashed Pablo's coding conference and booked myself a flight to Lisbon in November. The last time I visited Lisbon it was only for one day so I am super excited to explore more of the city. If you have any suggestions hit me up.
London
I have kind of neglected London this month; with being away and working my ass off I have barely stepped outside in the past few weeks. When I have ventured out it's been to some of my old favourites: catching up over coffee (and reasonably priced brunch) at The Breakfast Club, or sitting in the sunshine typing away on the Stour Space deck.
After New York I have lost a little bit of love for London but, I need to get my motivation back, so that's why I am excited to be taking part in the John Lewis Explore the City campaign. The department store have armed me with a Fitbit and asked me to use their new web service to help me find things to do in London. It couldn't have come at a better time and I'm looking forward to stepping away from my routine and finding some new places to reignite my love for the city I live in.
I genuinely thought the last six weeks had been quiet, but on relfection it's actually been pretty jam packed!