So, calling this "weekly update one" is a bit of a lie because I attempted the weekly roundup post before, but I lost interest pretty quickly and it went to the graveyard with the rest of my great ideas that I didn't quite manage to pull off.
Despite this previous failure, I'm hoping the weekly update is here to stay as my life is in a very different place now and instead of feeling like I should write a weekly post I actually really want to. One of my favourite posts is my monthly roundup, but they were becoming mammoth so weekly seems like much more easy to digest chunks of my life.
Another reason I have shifted from weekly to monthly updates is because life now seems so fast paced that a month seems like a long time between enjoying something and sharing it.
Enough of the explanation, let's get back into this week:
Week One
I have been readjusting from the glorious sunshine in Lisbon back to grey gloomy London. The dreich (Scottish for miserable) weather has actually been beneficial in a way, though it is harder to get out of bed in the morning, these darker days have encouraged me to stay inside and get down to work. Which was exactly what was needed the first week of launching my Etsy Store!
I feel like I covered everything in my Emma Inks Design blog post I really don't want to bore you but I have been overwhelmed with all the lovely comments I have had so far.
Between refreshing my Etsy shop and popping to the post office, I have also been sifting through my Lisbon content – which has been a bit of a slog with Pablo and I racking up
3 hours
of footage and hundreds of photos!
This photo set is from an awesome place in Lisbon called Village Underground, which I will include in a blog post round up next week.
I have edited a weekly vlog, and I should have three more videos out soon, so expect a high dose of Lisbon coming your way over the next week.
Sorry, that was so much work chat, but that's the truth behind living that own boss life!
Winter is Coming
Though it was great to throw my style back to summer in Lisbon, one thing I am excited about is winter fashion: big jackets, hoodies, beanies, faux fur, boots, and leather – I want them all!
One of the collections that really caught my eye this week is the Drop Dead x Game of Thrones collab! There are so many awesome items I would love to have in my wardrobe, but the hoodies were a really stand out for me. The Black Seven girls fit cropped hoodie for city cool casual, and the Black Winter is Coming Hooded Dress for snowboarding.
I understand that a limited collection from an indie brand will be at a higher price point than usual, but my budget just couldn't quite stretch to treating myself this time round. To ease my disappointment I did pop into Weekday in Westfield and picked up a supermoon hoody for £35 instead. I spotted this hoodie a couple of weeks ago and showed some self restraint, but after actually seeing the supermoon from the plane on the way to Lisbon, I had to have it!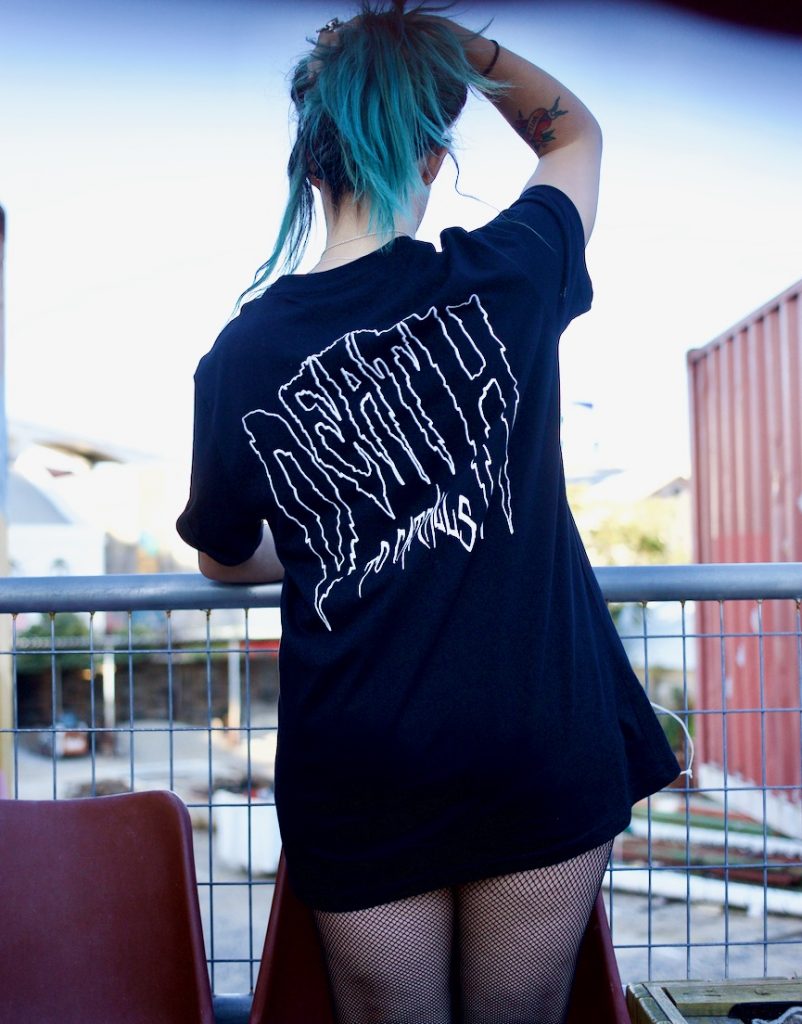 Another recent purchase from Weekday is the T-Shirt I am wearing, this is part of their Zeitgeist weekly print project, where a new design reflecting current events is screen printed in store and sold in limited quantities. This one carries the slogan "Death To Catcalls" inspired by the French government proposing to fine men for aggressive catcalling, a move that has already been implemented in Belgium, Portugal and Argentina. A movement I can 100% get behind.
I always pack for casual comfort because I need my holiday wardrobe to be practical enough to explore in as well as looking cool. So I threw on my old Topshop denim jacket (which I customised with spikes and pins to make it a little more edgy) as well as fishnets and a super comfortable pair of Vans. Giving a grungy edge to a simple, oversized tee.
Another key item in this outfit is the latest edition to my Bloody Mary Metal Collection that Pablo got me as a surprise for opening my shop.
Turning into a white walker
I'll stop with the Game of Thrones references soon but, seriously, my skin and hair are so dry I look like I am part of the Night King's army.
To combat these issues I have turned back to my old favourites The Body Shop and Lush. First up, The Body Shop; it was 40% off so I treated myself to Fuji Green Tea Refreshingly Purifying Shampoo, Fuji Green Tea Refreshingly Hydrating Conditioner, Ginger Anti-Dandruff Shampoo, Coconut Oil Hair Shine for my hair and the Seaweed Cleansing Gel Wash, Aloe Soothing Day Cream, for my face.
To complement these I picked up a few of my classic favourites from Lush: Dream Cream and H'Suan Wen Hua hair treatment. So hopefully that combo will take me from looking dead to Daenerys.
What's Happening in London?
I've been a bit rubbish at venturing around London recently, my life has been consumed by odd jobs which meant a visit to Ikea and Stratford. However, elsewhere in London there have been a few exciting things going on;
A Nasty Gal Pop Up has opened in Carnaby Street which, after visiting the LA stores, I am super excited about. As well as giving you an up close look at their awesome clothing there are also loads of events on in store.
Another American brand popping up for the festive period is Glossier who have a store at 32 Portland Place, W1 until 22nd November.
Another opening this week is Winter Wonderland which is back in Hyde Park! Sure, it's tacky and busy but London Christmas doesn't feel quite right without taking a trip and enjoying the festivities.
The only inclining of a social life I have had is grabbing a coffee with Natasha and Leanne at my old favourite: Stour Space along at Hackney Wick. It's always so nice just to have a chilled out chat with these awesome ladies from the internet.
Other people on the internet
Talking of people on the internet, this week I have been loving:
Jasmin Charlotte – Jasmin's blog is a wealth of knowledge and this week was no different with an awesome 5 Ways To Read Your Favourite Blog (That's Isn't Bloglovin) post, which couldn't have come at a better time for me. Is anyone else feeling kinda over Bloglovin, or is it just me? She is also running an Amazon giveaway and SEO course just now, so check it out ASAP
Bound in Bone – Darcie's recent fashion post is my favourite ever, so stunningly gothic and I am booking myself a night in Chapel Townhouse Brighton ASAP!
Amy Valentine – So, this is a bit of a cheat because it was actually three weeks ago but I still can't get over how awesome this look book is!
Davey Granger – Following Davey's adventures on Instagram has totally inspired me to follow in his footsteps and book a trip to Latvia and Estonia next year!
Hashtag Authentic – Another shoutout to Jasmin for recommending this podcast. If you're into the in's and outs of Instagram this is the podcast is for you. Hosted by Sarah Tasker (Me and Orla) who chats through Instagram in a matter of fact, yet personable, way and has got me thinking about my feed differently.
Ok guys, that was meant to be a short snappy little roundup but somehow I've waffled on for paragraphs. I hope that you like this new style of round up, let me know what you think and share with me some of your favourite folk on the internet right now.