2017 was the year where I scaled back on travel to concentrate on big life decisions like: quitting my job, starting my own business, getting engaged, and buying a house. Despite the insane amount of adulting I have done over the past 12 months, on reflection I seemed to have squeezed in a fair few trips.
US Road Trip
Beginning the year half way through a road trip around the US wasn't a bad way to start to 2017; but it wasn't perfect either – two mega storms hit the US consecutively hampering many of our plans. Though physically the weather dampened our holiday, it did not have the same effect on our spirits. Pablo and I were an adaptable team, making this trip one of the best we have been on together.
We welcomed 2017 in Nashville; the plan had been to be hammered at the huge Jack Daniels party in town, but the rain just wouldn't give, so instead we got a WholeFoods picnic and stayed in, snuggled under a blanket.
After a relaxing start to the year it was time for the long drive back to the Los Angeles where our travels began. This was not a straight or short road so we made a few stops on the way including Oklahoma, and Albuquerque with a little detour back through Texas so I could see the cadillac ranch and say I had been to Amarillo.
Travel isn't always easy and soon we discovered the horror that is "thunder snow" and barely made it through the winding roads to Zion . The terror of ice, snow, intense thunder, lightening, deers jumping out in front of the car and rocks falling around us, all whilst trying to navigate winding cliff edge roads. All of that drama was so worth it to wake up to the view of Zion's rusty hills covered in snowy tops. The day was bright and still making for the most picturesque hiking conditions.
Leaving nature behind we traveled on to the shiny lights of Vegas. This city maybe famous for debauchery but instead  taking part in the revelry we took it easy, watching the masses of people going wild on the strip, taking in some Vegas history at the neon museum, and finally making my teenage dreams come true by catching the Criss Angel show. I love the chaos of Vegas, but a few nights was enough and I was looking forward to another few days in the great outdoors.
First stop was Death Valley, onwards to Fossil Falls, then finally (after many hours) we reached Yosemite. This part of the plan really went to shit and instead of hiking then heading to San Francisco, we were absolutely battered by stormy weather so retreated back to Venice Beach so we could spend the final few days of our trip soaking up the sunshine in a place Pablo and I both love.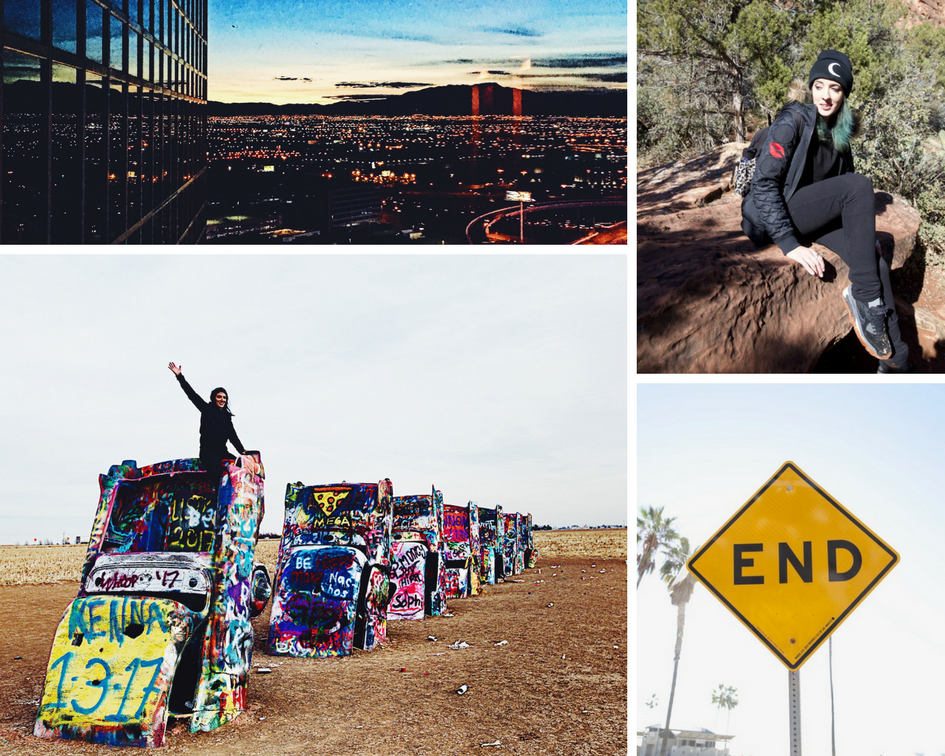 This trip was insane, and we would never cover such massive distances in such a short time again, but it was one of the most memorable holidays we've taken in years and a massive turning point for me personally.
Belfast
With Pablo off on what seemed like the billionth stag do of the year, my mum took pity on me and booked us a girls weekend away in Belfast. I have visited Belfast many times but I am always impressed by how the city seems to keep progressing.
This trip we of course had a little browse round the shops, but also got our culture fix with a mural tour and a trip to the Titanic museum. Belfast is so vibrant and always changing – I'm sure it won't be my last trip.
Budapest
Pablo and I had barely seen each other since the road trip so we booked a super cheap and cheerful weekend in Budapest.
Hopping off the subway we randomly bumped into our friends Gavin and Lyndsey which lead to a night of cheap beer and banter at popular ruin bar Szimpla Kert.
The next day was sore heads all round but we managed to shake off our hangovers with an amazing brunch at Szimply before walking what seemed like the length of the Danube  to explore this fairytale like land.
Though undoubtedly stunning I was craving a little more grit, so went on a mission to explore more of the city's alternative side on our second day. Having zero time to plan this trip we left our last day in the hands of a professional and joined a free walking tour. Which ended up being a private saunter round the Jewish quarter with hospitality student Alejandro.  Taking in the diverse art and history was a great way to spend our final day.
Budapest had a lot more to offer than I first anticipated and was a awesome place for a weekend away.
Manchester
I have visited Manchester once a year since I was little, it's where some of my family and best friends live, and never gets old. This vibrant city is filled with independent bars, shops, and spirit. It's ever changing, keeping it fresh.
Scotland
Going back to the homeland is always a great chance to catch up with friends and family, but trying to see as many of our loved ones as possible means that usually our trips are crazy rushed. So, in 2017 we tried to plan a little better spending time in Edinburgh, Glasgow, Fife, and Dundee, before finishing off with a family getaway to the Isle of Lewis.
All the other places were old haunts but Lewis and Harris were new locations for me and I couldn't believe how stunning this remote part of Scotland was. With incredible beaches and rolling hills it often felt like we had landed on another planet and not just hopped on a ferry from the mainland.
This trip encouraged me to explore more of Scotland's wild side in 2018.
Newcastle
After our big trip to Scotland we broke up the long journey from Lewis with a quick stop over in Newcastle.
This city is another both Pablo and I are very fond of and it was awesome to see how much the city had changed since our last visit during our student days.
Lake District
On another trip to Scotland for our friend's wedding we decided to break up the drive with a trip to the Lake District. This was a family favourite as a kid and it was so nice to show Pablo around.
Staying in the adorable Rum Doodle BnB we woke up early to take a touristy trip round Lake Windamere before driving around the country roads and heading back up north.
With many of our friends having families of their own I hope this becomes a place for family holidays once again.
Cornwall
Cornwall had been on my travel list for ages but heading down on a bank holiday probably was not the best idea! The traffic was terrible and the place was packed out but we were still keen to see what South Cornwall had to offer.
The morning was spent passing the time at a rather grey St Ives before grabbing a vegan pasty and setting off towards Lands End. Next stop was on the tour was the Minack Theatre; set on the edge of a cliff-face looking down onto a turquoise bay it looked more mediterranean than southern english in style.
As we were staying in such a rural little Airbnb we decided it was best to stock up on supplies and take advantage of the fire pit, cooking up a veggie BBQ.
Growing up on the coast I'm a little bit of a beach snob and thought while Cornwall was fun, it didn't quite live up to my expectations.
New York
What better way to celebrate quitting my job than heading for a week's stay in Brooklyn?
This is the city where my heart lives and visiting for the billionth time was just as fantastic as the first.
We stayed in super cool Brooklyn neighbourhood Bushwick, visited Coney Island, as well as stopping by a few of our old favourites including: Williamsburg, Greenwich, Central Park, and the Lower East Side.
I came back feeling totally inspired and with two permanent souvenirs: a tattoo and an engagement ring.
Lisbon
With the weather in London being so grim I needed a little winter sunshine and crashed Pablo's trip to Web Summit so I could spend the weekend in Lisbon.
I had been to Portugal's oldest city a few years back, and after seeing the typical sites I was excited to take in more of the city's more creative side. Which was achieved by hanging out in art covered LX Factory and Village Underground.
Where to next?
So, for "not travelling at all" last year I seem to have done a pretty good job of getting out and about. 2017 was all about working out what I wanted so 2018 is about doing those things and travel is back as a top priority.
So far I have booked a week snowboarding in Tignes, a weekend in Paris, and a weekend in Prague. Depending on how the Emma Inks Designs sales go I'm very much hoping to add Istanbul, Estonia, Scotland, Bristol, Australia, and New Zealand to that list (and if I win the lottery maybe New York because I've always got time for The Big Apple).
What are your guys 2018 travel plans?  Where were you favourite 2017 destinations?