Bushwick has fast become my favourite place in New York, a cool art neighborhood that, despite rapidly growing into a hipster hotspot, retains its gritty edge.
I first came across this area two years ago after meeting Melissa from Brooklyn born brand Social Decay at London Edge. In return for me giving her a bunch of London recommendations she kindly emailed me her favourite spots in Bushwick; this list has been the basis of my last two trips to Brooklyn because in my view you can't beat local knowledge.
From the first time I hopped off the Subway at Morgan Avenue I was instantly in love. The streets were covered with art, and sandwiched between the industrial areas and building yards lay the coolest bars, coffee shops, grocery stores, shops, eateries, and people.
Bushwick is a working class warehouse and residential area, so isn't exactly tourist friendly – but if you are looking for a neighbourhood to pretend you are a local in, then this might be the place for you.
The Art
This trip I knew I wanted to stay in the heart of Bushwick instead of just visiting it. It was the first week of starting my own creative business and I couldn't think of anywhere better to feel inspired and get my creative juices flowing than this art-covered neighbourhood.
Creativity is truly everywhere in this part of Brooklyn, even our airbnb host was a talented multi media artist. Her warehouse apartment was my dream space: a sunny studio covered in various types of artwork and smack bang in the middle of the action.
Whether you step outside the front door of your airbnb, or are hopping off the subway at Jefferson or Morgan Avenue, the colourful artwork cannot be missed with massive murals spanning blocks.
Many of the larger mural style pieces are facilitated by The Bushwick Collective, a non-profit outdoor gallery founded by steel company owner Joe Ficalora, bringing the factories and creatives who inhabit the area together.
Between these huge pieces of street art there are also plenty of smaller pieces, stickers, sculpture and traditional graffiti to take in.
Though you could easily spend hours just strolling the streets taking in the hundreds of pieces of street art, there are also over 50 galleries. Like everything else in this area, these spaces are constantly changing so to see what's going on when you're in town check out the Bushwick Galleries Map, Momenta Art, and Bushwick Daily. 
Like the rest of New York, Bushwick does not sleep and even after the sun goes down artist expression continues. A couple of venues I would recommended checking out include: House of Yes (who have the best ethos: creating a "temple of expression dedicated to connection, creativity and celebrating life."), and Bizzare – a cool hangout with edgy artistic entertainment (and where Sasha Velour used to perform before she became Drag Race Royalty). 
An area filled with so many creatives means that there is always something going on so get chatty and take local recommendations on the best events during your visit.
From music, murals, food, and tattoos to installations the streets of Bushwick thrive with creativity and collaboration
The Food
There are so many incredible independant places to eat in Bushwick, but I am going to concentrate on the ones that offer vegan and vegetarian options.
Papa Samurai – a tiny hole in the wall Japanese restaurant serving up sushi, cocktails in tin cups, and the BEST vegan ramen ever!
Roberta's – a legendary pizza place that I covered in its own blog post the last time I visited New York.
Bunna – a delicious Ethiopian restaurant where you eat with your hands. I would highly recommend the sharing platter where you get an extremely generous portion of everything on the menu. Looking for something a little different they also offer a traditional coffee ceremony brunch.
Champs Vegan Diner – not all plant based food is healthy; Champs serves hearty junk food accompanied by loud punk music, which is my idea of heaven, and is also a favorite of Krysten Ritter. If it's good enough for Jessica Jones it definitely is good enough for me.
Dun-Well Doughnuts – New York's first ever vegan-only doughnut joint which was inspired by Homer Simpson!
After watching an episode which left him craving Homer's favourite snack, co-owner Christopher Hollowell joined forces with buddy Dan Dunbar to create a place that could nurture his need for a decent doughnut without using animal products or scrimping on flavour.
Whether you are vegan or not you will not be disappointed by these delicious doughnuts
Tutu's – This restaurant/bar is the grooviest Grandma's house in town; I respect my elders by giving this place its very own post.
We went for a delicious brunch but they also do an awesome happy hour with beer and a burger for only $10.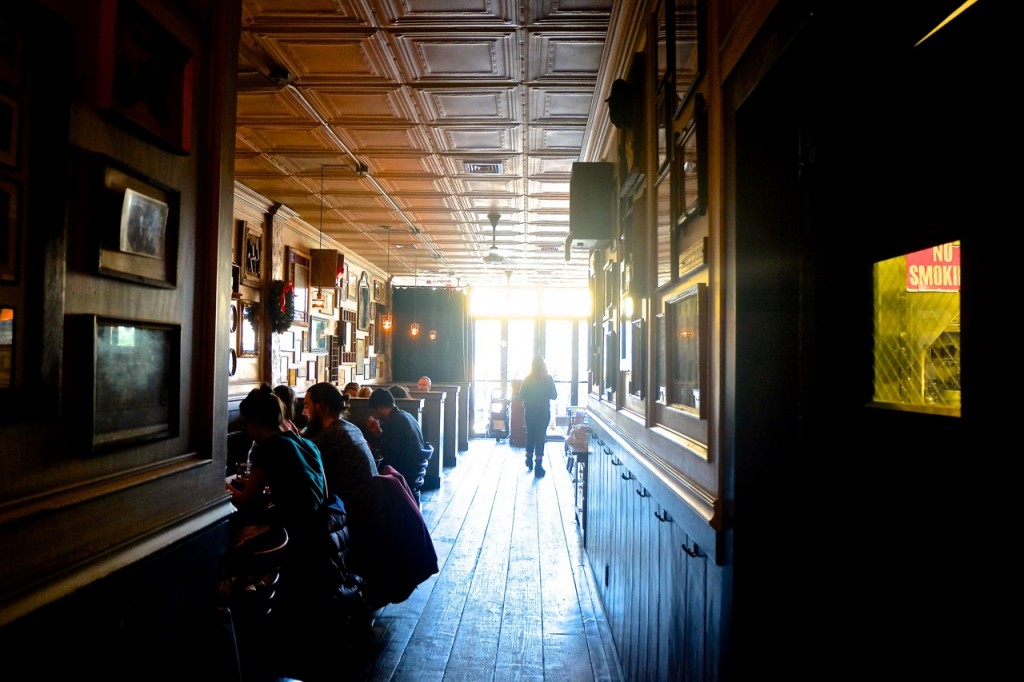 I don't have the budget to eat out for every meal when travelling so rely on local super markets and delis; Bushwick has some stellar options: Hanna Food, Brooklyn's Natural, and Food Story were some of my favourites with an awesome selection of fresh food, as well as amazing salads and sandwiches.
Coffee
Now, I am really serious about getting my coffee fix so it was top priority to find some cool local places and, of course, Bushwick did not disappoint.
Kave – tucked away within Shops on the Loom, this was the perfect place to sit and chill out in the afternoon with laptops or to make plans for the rest of the day. The clientele are (obviously) super cool but also friendly, and the decor is minimalist but with a few special details including a grand piano and a garden.
AP Coffee – Pablo popping out and grabbing a couple of AP coffees to go became our Bushwick morning ritual and it was just the kickstart I needed for a day of exploring. This place is fueled by passion as well as caffeine, the creative owners aim to bring the community together with the passion they have in the food and drinks they serve.
Swallow – we've tried here 3 times and each time I have liked the scaled back interior and decent coffee, the staff have been a little standoffish. I would, however, recommend swinging by for a takeaway coffee and getting a picture of the amazing exterior.
These happen to be three of my favorite places to get caffeinated but there are plenty more to choose from if you feel like going on a coffee crawl of the area.
The Bars
I am a little boring when it comes to holiday drinking and love finding a local to visit for a chilled out night cap.
This trip Pearl and Billy's Social Club became our firm favourite; a darkly lit, neighbourhood bar serving up craft beer and cocktails in mason jars.
Next time, watering holes that are high on my list are;  Anchored Inn, a chilled out metal bar with live music and bar food that comes highly recommended, and Pine Box Rock Shop, a vegan friendly bar that has a great happy hour.
Bushwick is a unique neighbourhood with a raw creative energy that practically pulses from the cracks in the sidewalk. Though its disheveled appearance is covered in colourful paintwork, this area is still gritty and with that comes high crime rates so it's a place in which to remain vigilant.
In saying that, we felt comfortable walking around in the dark and found everyone who we spoke with to be charming and helpful, I think – like in any city – you just have to be streetwise.
The Bushwick community seemed to have the perfect blend of free spirits and the New York get shit done attitude, making for an eclectic yet practical neighbourhood with new businesses and art popping up all the time. From my outsider's point of view, this is a place where anything goes and people are accepting of those who are daring enough to be different.
There is a unique blend of boldness without bragging in the people we met during our stay in Bushwick, which left me feeling inspired to go out there and do things my way, without reservations.
If you like this post why not pin it for later?