Grasmere, an idyllic village in the centre of the Lake District, was the perfect place with great options for a quiet break with a balance of outdoors and relaxation.
We have a pretty difficult checklist when it comes to booking a holiday:
Plenty of things to do
Great local spots to hangout
Awesome vegan food
Artisan coffee
Comfortable place to rest due to my chronic illness
Memorable
Doesn't cost the earth
Puppy friendly!
It's a lot, but Grasmere ticked off every item on our list — so here's what we got up to.
Dog Friendly Accommodation Grasmere
Grasmere has loads of accommodation options, but many have limited dog friendly rooms so you gotta get in there quickly!
We stayed at The Victorian House Hotel which was a recommendation through Instagram and I could not be more grateful.
A lovely, recently renovated hotel which totally understands what dog owners need for a stay with a fluffy friend.
The rooms are neutral and modern yet have that English countryside charm that makes it feel homely. All doggy rooms are ground floor for easy outside access, have hard floors and even came with treats, poo bags, a ball, and a dark coloured towel to wipe those muddy paws on.
The rest of the hotel is bright, airy and also dog friendly which meant Harley could join us for a leisurely breakfast which beats worrying about what he was up to behind closed doors.
Another practical point The Victorian House Hotel gets right is having a boot room to dump your muddy boots and wipe down paws after a walk. It was the perfect balance between design and practicality which made for a relaxing stay and everything we could have asked for in a first hotel stay with doggo.
Vegan Eating in Grasmere
Vegan and dog-friendly was not the challenge I expected from a village as small as Grasmere
Breakfast was part of our room rate at The Victorian House Hotel and offered a good variety of pastries, cereals, and cooked options. There were not any vegan options on the menu but the staff were more than happy to customise orders to suit any dietary need. I think going forward it would be awesome if they did add a 'vegan option available' next to some of the choices. It would be great for people like me that always feel a little awkward asking for adjustments. Everything was freshly made and the perfect way to fuel before a day of walking.
A creperie and artisan coffee shop that showcases local supplies with a really good selection of vegan options including: sweet and savoury buckwheat crepes, Italian lemon cake, muesli cookies, vegan ice cream and I can personally recommend their banana muffin.
To go along with their food Emma's also has an impressive drinks menu with coffee from Red Bank Coffee, The Brew Tea Company, local beers, spirits and smoothies; something to suit every mood.
You know I love me a sourdough and Lucia's is up there with the very best. Not just for the bread fiends like me, they also make cakes, pastries, sausage rolls, epic sandwiches and colourful salads. Not everything in Lucia's is vegan but they did have a few options which looked delicious. They also serve fantastic coffee from Kendal's local Red Bank Coffee. All the coffee we consumed was great but Lucia's edged it to be my top latte of the trip.
Freda + Ray
A lovely airy spot to sit and enjoy breakfast, lunch, cake, coffee, or even a glass of wine. Their menu is pretty elusive online but from our brief visit they do a lovely coffee and had a couple of vegan cake options. One that I want to spend more time in on our next visit.
Part of Grasmere Brewery this taproom has a great selection of beer as well as local ciders, spirits and wines. It's a super casual atmosphere with hearty portions of delicious fresh food. We shared the soup of the day, chips and vegan curry served with rice and a poppadom and were impressed with how packed with flavour everything was — and those portions left us stuffed. A perfect start to our trip.
Though a taproom The Good Sport also offers vegan options at breakfast, lunch and dinner so if you're only in town for the day you can still pop in and enjoy a meal and the welcoming atmosphere.
The award winning bar in Tweedies is first come first served, and welcomes waggy customers! A modern but laid back bar with a super friendly atmosphere, awesome craft beer selection, knowledgeable staff and a couple of cracking vegan options. Open for lunch and dinner, the menu is seasonal so changes but we shared a black bean burger and chilli with homemade tortilla chips which were both delicious and just what we needed after a long day walking. Tweedies has such a great upbeat vibe it was my favourite hangout on this trip. A cheeky pint quickly escalated into a few more and dinner! Thanks so much to Dr Pond for the recommendation.
Things to do in and around Grasmere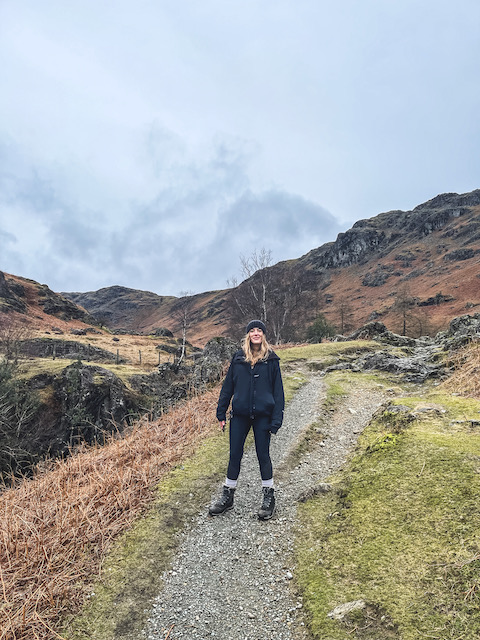 The Lake District is a walker's heaven with strolls for every ability. So that's pretty much all we did. We used this list from The National Trust and picked two moderate walks for our trip.
Helm Crag
Helm Crag, also known as 'Lion and the Lamb', is a moderate level hike with awesome views. The route we took was straight from Grasmere village centre strolling past Lanscrag, an 1880s hotel and a favourite spot of Wandsworth, straight into the ancient woodland, which is a lovely easy amble before hitting the first part of the trail. The path is well marked, with rocky pathways and a pretty steep ascent until you get to the summit which is a little scramble up jagged rocks but is so worth it for view. We did the walk in the morning and took lunch to eat at the summit but there's plenty of places to stop off if you wanted to take it at a slower pace and make a day of it. The route we took was about 7km total.
Easedale Tarn
An easier walk, again accessible straight from Grasmere. We took a bit of a scenic route which involved, crossing through marshy fields and a river but if you take the more direct path it starts the same as Helms Crag until you hit Goody Bridge where you take a left and head through some lovely farmland with sheepy pals. After that it's a gradual incline, again which is well paved. From there you pretty much follow the cascading waterfall until you hit the Tarn! This isolated spot surrounded by hills was the perfect place to eat lunch and would be a dreamy swimming spot in warmer weather.
From here you can go back down the way you came, head on up to higher summits, or do what we did and hop over the top of the waterfall down to create a loop. If your feeling extra adventurous you could also tag on Helm Crag in the same day!
Grasmere Village
The village itself is also a lovely place just to have a wander with loads of indie shops, galleries, tearooms, eateries, outdoor adventure stores, a garden centre, river and of course a lake. It's the perfect desinstantion if you just like a dander. We found plenty to do in our 3 night stay but if you did want to go further afield there were frequent buses, as well as well sign posted cycle routes connecting you to the rest of the Lake District easily without having to take the car.
Grasmere was a perfect spot for our first family holiday with a puppy.