When looking for recommendations for our trip to Prague, the common themes were: cheap beer, castles, and carbs.
All of the above are winners in my book but I also found way more to do. This is a city steeped in history, from the medieval Old Town to the more recent fall of the iron curtain, but also has a modern flare filled with many hidden gems.
So here are some of the coolest neighbourhoods we found in Prague.
Our starting point for seeking out alternative culture always starts with street art; though there was lots of graffiti and tags, the scene in Prague was not as prevalent as in cities such as Berlin and Budapest however our search did take us to some interesting areas.
Žižkov
Pablo and I once again opted for an Airbnb and we totally lucked out with our choice, Žižkov was such an awesome neighbourhood to stay in. With only a 20 minute walk through the park into town we were able to take in all the major attractions without being in the throes of tourist town.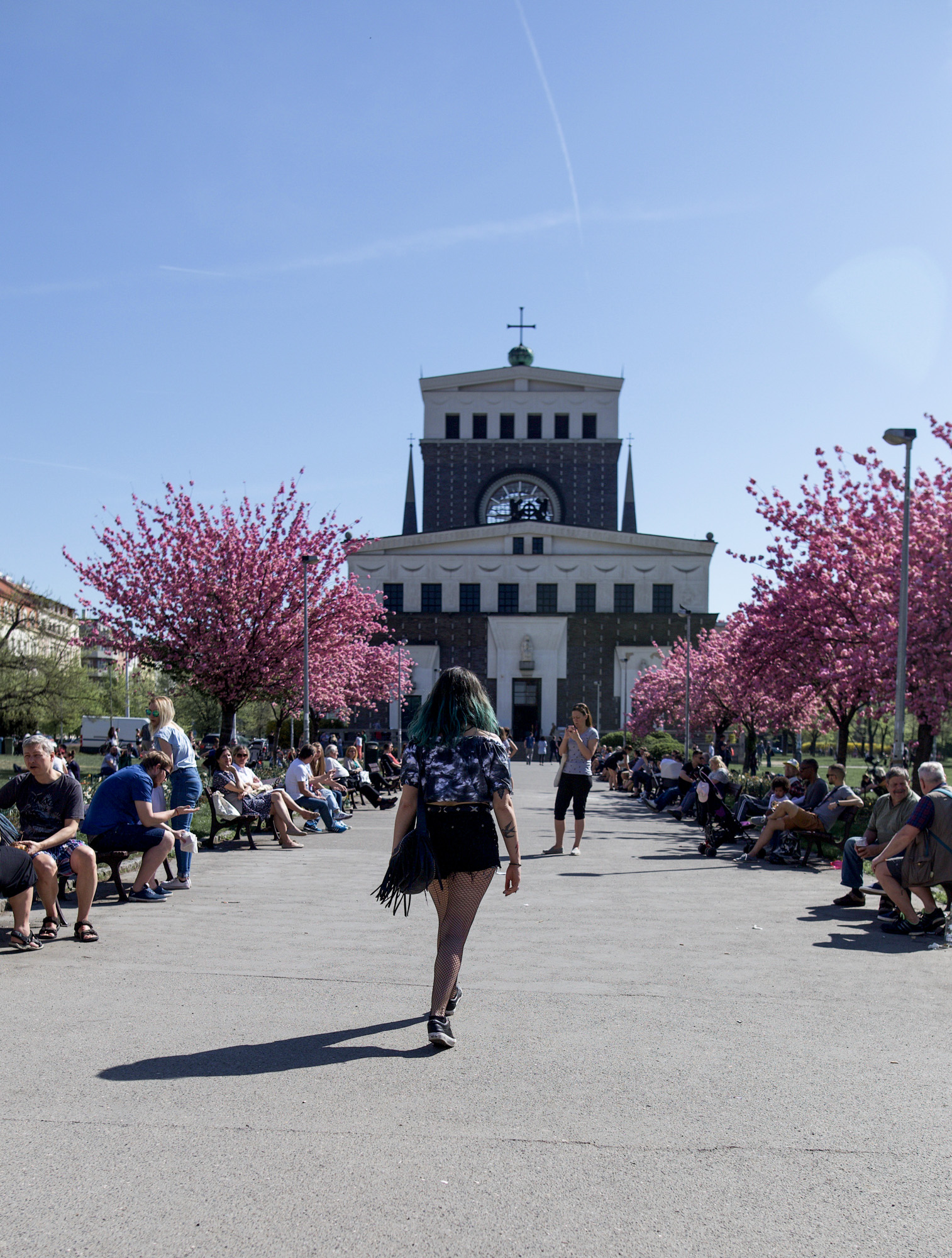 Žižkov was once a communist party stronghold but is now a vibrant area inhabited by students, artists, and young families. The cobbled streets seem very residential at first but every few steps there is an indie coffee shop, bar, store, or restaurant to discover, making it the perfect place to take a wander.
Some of my favourite spots included Belzepub, a punk bar, serving up mega vegan burgers, and Moment, a cute vegan spot with generous brunch, lunch, and dinner options with top notch bagels.
There is also a huge range of awesome bars to choose from but the weather was so fantastic on this trip we choose to sip beer from a plastic cup in Rieger, a cherry blossom-lined park with stunning city views, where we watched the sunset with locals. If the weather is less glorious on our next trip to Prague then The Tavern, Bohužel Bar, and Nad Viktorkou are high on my list of boozers to spend the night in.
As well as eating and drinking there is plenty to see and do in Žižkov. Standing over the entire area is the Žižkov Television Tower, once a soviet signal jammer this 216m landmark is now an attraction offering 360° views over the city, as well as a cocktail bar and restaurant where you can spend the evening.
Delving further into the history of Prague you can also visit both Olšanské Hrbitovy and The New Jewish Cemetery in this area.
As well as history there is a thriving art scene in Žižkov with small galleries including Hunt Kastner Gallery and cultural hub, Palác Akropolis.
This area was a perfect introduction to Prague, with a laid back vibe, plenty of coffee, craft beer, delicious food and views across the city.
Karlin
A once industrial area hit terribly from the floods in 2002, Karlin has transformed into a hip area filled with an array of eateries, coffee shops and hangouts. Karlin is an awesome place to kick back and get away from the crowds of the Prague Old town, which is only a short walk away.
Pablo and I took a wander down to this part of Prague on a Sunday so many of the cute boutiques and arts spaces were closed, however, there was a such a good vibe that a quick coffee stop at Mama Coffee turned into an hour and half sit down.
If I was to return to Prague this is somewhere I would definitely head back to.
Štvanice
Sandwiched between Holešovice and Karlín, Štvanice might not be one of the prettiest islands on the Vltava river but it's grungy feel is totally my vibe.
Tucked behind an abandoned building on Hlávkův Bridge lies Villa, a little alternative theatre where you can catch a show or a drink. There was nothing on the afternoon we discovered the island so instead we spent hours sipping beer in the sunshine, watching locals enjoy their weekend, bikers on the dusty BMX track, and soaking up the city views.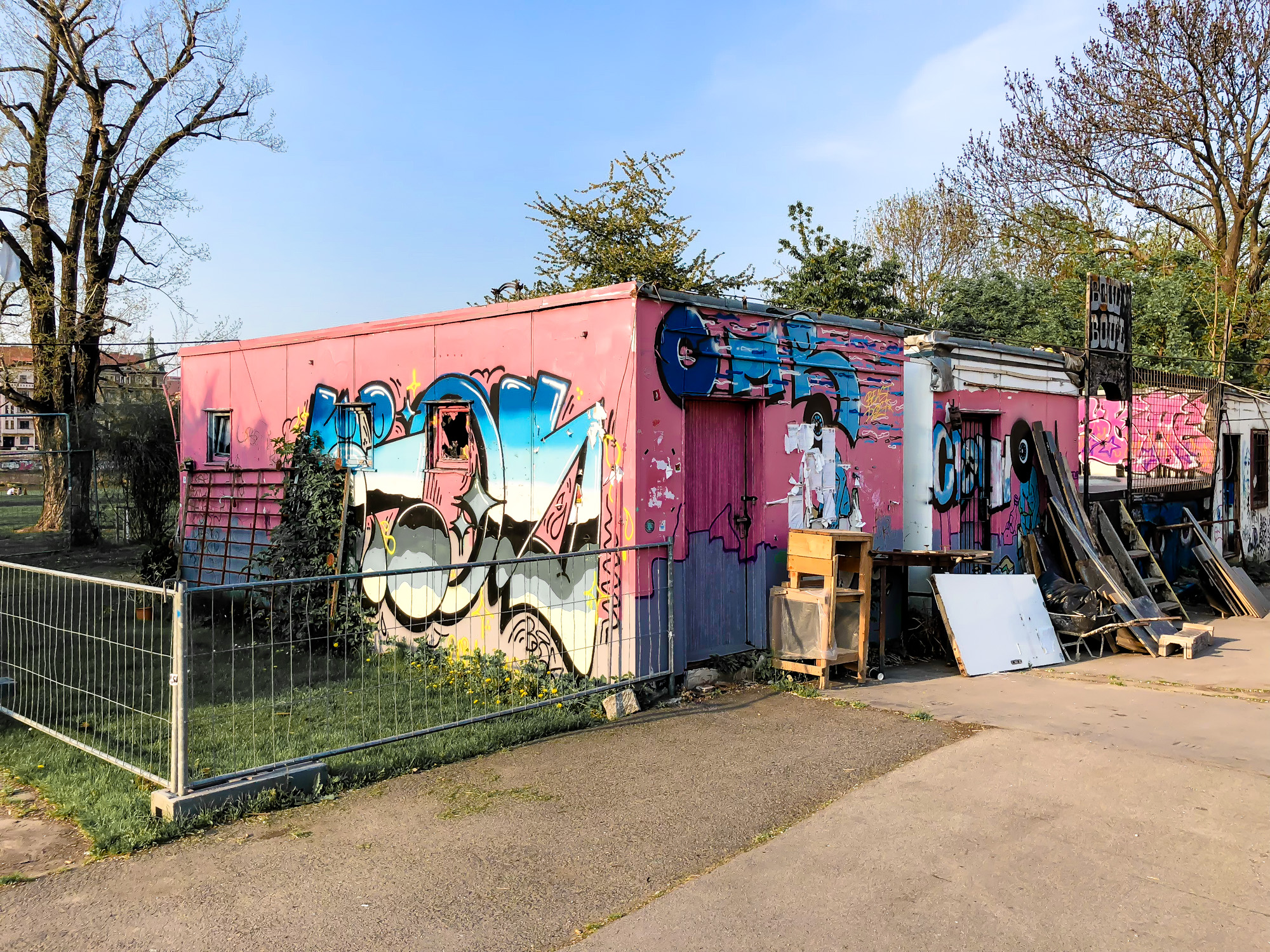 After a relaxing afternoon we made our way under the decorative bridge to the Mystic Skatepark, built in 1993, this park host events with hundreds of skaters from around the world. On Sunday it was a little quieter, but we grabbed pint from the deck-orated (see what I did there) dingy bar and kicked back watching locals practice their skills and teaching some of the younger kids to master tricks.
Holešovice
Once famous for strip clubs and stag dos, Holešovice has become an eclectic area with factories being transformed into cool art spaces.
We spent saturday afternoon hanging out in Vnitroblock a huge cafe-come-design-space housed in a disused factory. This place was a hub of activity and one of my highlights from the weekend. Taking a seat in the café area/skateshop the huge display screen flashed up with various arts events taking place throughout the day. These included live art painting taking place on an indoor stage and outside where a mural was being painted by @dzia.
This place was so welcoming that we even got the chance to get creative, doodling at one of the many drawing stations and later Pablo picked up a paint can and left his mark on one of the murals outside. I would have happily stayed there all evening but we had so little time to explore we had to continue on and enjoy the last of the sunshine.
Wandering up to Letna Park we stumbled across another small collection of street art outside Vltavská metro station which included this piece by Mode 2 which was painted as part of the Street Art Festival "Names Fest" in 2008.
After a quick photo stop we made our way uphill where we spotted the famous cinema/hangout Bio Oko and a few cute indie stores before reaching the Letna Beer Garden. The park was bustling with both tourist and locals but we managed to get a cold beer with minimal wait and a riverside seat where we once again spent the last few hours of sunlight looking down at the city below.
Prague was not what I expected, but in the best possible way; it served pretty, history, and cheap beer by the bucket load but also SO much more. There is glorious green space scattered throughout the city as well a distinct neighbourhoods with an independent spirit to suit every type of traveller.