I will never say no to a weekend in Amsterdam despite how many times I've been. Beautiful architecture, liberal culture, artistic heritage, and so many canals and winding streets to explore – there's always something new to do in this awesome city.
Getting To Amsterdam
I have travelled to Amsterdam almost every way possible;
Ferry – We did "rail and sail" from Liverpool Street, which was a great bargain. If you are travelling from elsewhere in the UK or want to take a vehicle you can also hop on a ferry from Harwich to Hook of Holland, Hull to Rotterdam, and Newcastle to Amsterdam.
Air – There are so many cheap flight options into Amsterdam! Another bonus are the great connections from Schiphol Airport to the city centre. This combo makes travelling to Amsterdam by plane a breeze.
Bus – If you've got loads of time and not a lot of money you can hop on a coach all the way to Amsterdam for as little as £20!
Train – By far my favourite way to travel is by Eurostar. It's so comfortable and you get dropped off right in the heart of the city, meaning your weekend in Amsterdam can start straight away. This route can be pricey but Eurostar often have great sales on and you can go one way for as little as £35.
Once you're in Amsterdam you can pick up a tram pass and explore the city with ease. My preferred way to get around is by copying the locals and grabbing a bike. There are a plethora of places to rent bikes from as well as being offered by most hotels.
Where to stay
Amsterdam is not the cheapest for accommodation, especially at the weekend but there are loads of options. From hostels to 5* hotels and we've done a lot of them including;
Camping – Amsterdam Gaasper was clean, comfortable, and super easy to get into town on the train. Such a great option if you're on a budget or prefer being in the outdoors to the city life.
Airbnb – Having stayed in over 50 Airbnbs worldwide one of my favourites is still staying in a houseboat with friends in the Frederik Hendrikbuurt area of Amsterdam.
Hotel – This last trip we wanted to check out a new area so booked the eco friendly Conscious Hotel in Westerpark. The hotel was super modern, had awesome staff, a coffee shop, lively bar, and bikes – which was everything we wanted from our short trip.
The location was also great, right in the middle of a Westerpark. The park itself is a great place to explore and has some great bars, restaurants, and events but is also conveniently located only a 15 minute cycle away from the city centre.
Vegan Eating
Amsterdam is a modern city, making it pretty easy to grab vegan food anywhere, at any time of the day but here are some of my favourites;
Toki – A small coffee shop with hip clientele and excellent coffee. This place only has one vegan option on the menu but we returned a few times because the vibe was so great.
Vegan Junk Food Bar – Everyone I asked about vegan food in Amsterdam recommended this local chain and I can see why. Dirty vegan food in brightly coloured graffiti surrounding, I mean really what's not to love?
Meatless District – A veggie spot; a little more upmarket than my other recommendations but still laidback with great service. We cycled down here for breakfast and were ready to take on the day after a sharing a couple of their hearty dishes.
Foodhallen – 21 food stands serving up a variety of cuisine, there were not loads of vegan options but it is a great spot if you're travelling with people with different dietary needs.
Looking for more vegan options in Amsterdam, then check out Kitty's blog where she share her favourite gluten free plant based finds.
Drinking
You are spoiled for choice when it comes to grabbing a beer in Amsterdam but some of my top hangout spots are;
Brouwerij Troost Westergas – is a brewery, brewpub, and store all under one roof so you can grab a takeaway tinnie or sit and enjoy the vibrant atmosphere. As well as a large house-brewed beer selection they also serve pub style food with vegan options available.
Pllek – A man made beach with views of the city, Pllek is one of my all time favourite spots in all of Amsterdam and is well worth the short (free) ferry trip North. They do have great fresh food but were lacking in plant based options on our last visit.
Soho House – If you are lucky enough to be a member of Soho House this one is a beaut. Located in a 1930's building right in the centre of town. The roof was an ace place to grab a beer, get our bearings and enjoy Amsterdam from up high.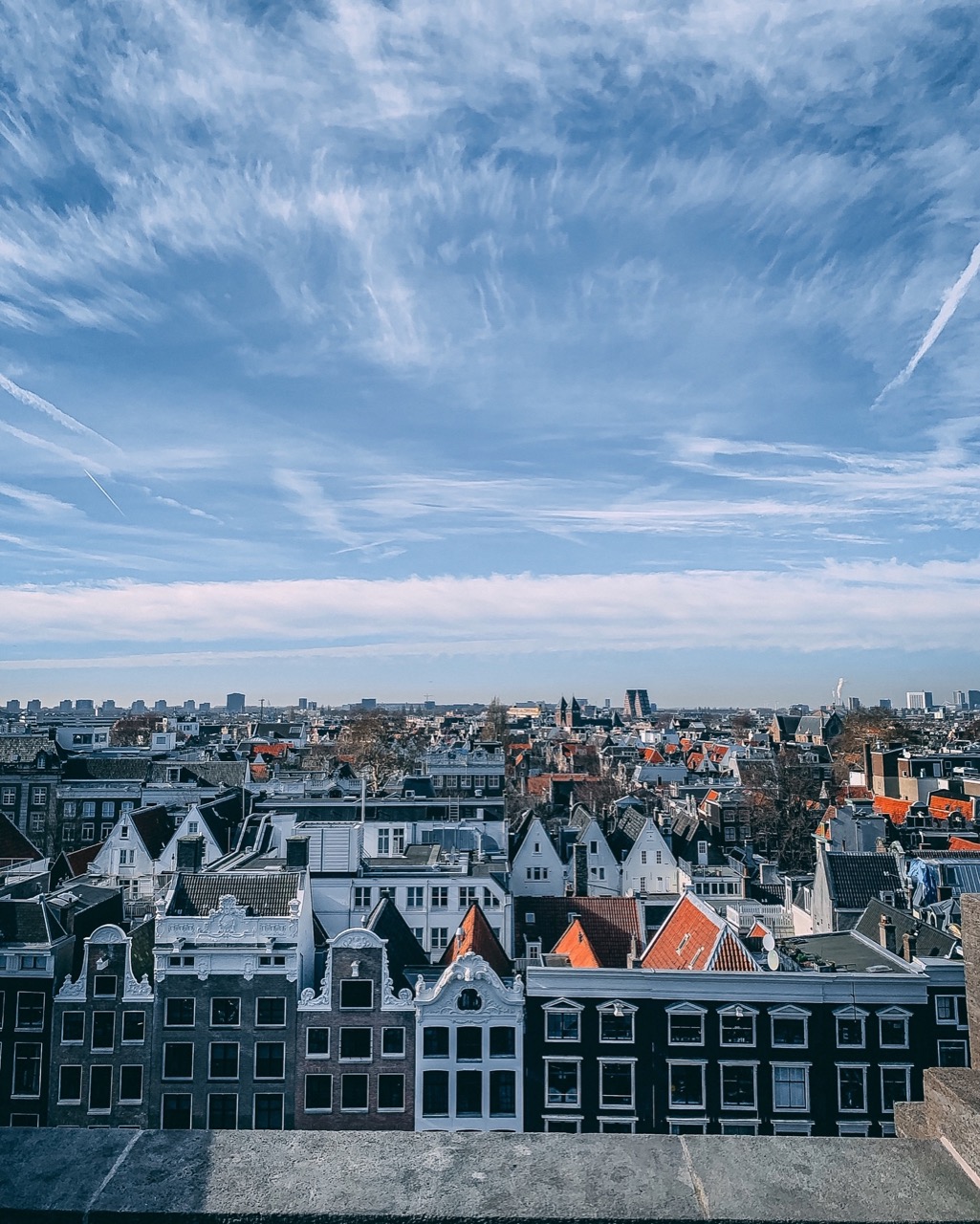 Checkpoint Charlie – A cool locals bar with a focus on music and a good selection of craft beer.
Getto – A creative bar with a focus on inclusivity. My advice grab a Diva Burger with a side of Homo fries and see where the night takes you. For us it was a drag filled night of debauchery!
Indie Shopping in Amsterdam
Being on a super tight budget shopping isn't high on my list when travelling, but there are a few notable places I'd recommend dropping by even just to browse:
The Makers Store – a shop filled with work by local creators. Once a month they also host a makers market filled with even more talented makers. It's a great way to support local artisans and bring back a souvenir without the tat.
House of Denim – If you live in jeans as much as I do you will love this store. This place is much more than just a shop it's a non-profit that concentrates on collaborative projects with makers and innovators aiming to put Amsterdam's denim scene on the map and inspire future designers.
Independent Outlet Skateboards Amsterdam – A laidback store with an awesome selection of skate shoes, equipment, and vinyl.
Ben G – A skateboarder owned store with an ace range of skate brands including HUF, Obey, and Stussy.
Concrete Store – This store looks like a museum for cool streetwear celebrating brands both big and small.
How would you spend a weekend in Amsterdam?
So that's where you can find me during a weekend in Amsterdam. If you've got any spots you think I need to check out on my next trip hit me up in the comments below.