I have been lucky enough to visit Los Angeles a few times, but DTLA was never on my radar until this trip.
During previous research there was a lot of conflicting advice when it came to Downtown and there were lots of warnings about safety. Having such an expansive city to explore it didn't seem worth the risk. That was until it came to our honeymoon, where I wanted to try somewhere new.
I know that this area has changed over the past decade and with the amount of construction everywhere obvious that its transformation is not over yet, but man I wish I'd taken a chance on DTLA before.
Here are just some of my my favourite things to do in DTLA:
Street Art
One of my priorities for any trip is to hunt down local street art and DTLA did not make it hard. Without even trying we stumbled across so many amazing murals.
This part of LA has been a creative hub since the 1970s where artists took over disused factories, eventually spilling out onto the street.
With gentrification on the rise DTLA has moved on, however murals remain a prominent part of this area. Being short on time we took a self guided option but if you want to learn more about this area LA Art Tours Graffiti and Mural tours came highly recommended.
The Broad
If you like your art indoors and a little more curated then The Broad is an awesome option.
Paying patrons get to skip the queue and access to the latest exhibition, however if like me you're on a budget then there is a free option. You can book your can tickets online in advance or if you're disorganised (also like me) join the standby queue.
We lined up for just over an hour and got free access to contemporary art from 1950 to present day including pieces by Jean‐Michel Basquiat, Andy Warhol, Barbara Kruger, Roy Lichtenstein, Jenny Savill, and Robert Longo to name but a few.
If that wasn't enough there are also free tours at 1:15pm & 3:15pm where you can learn even more about this incredible place.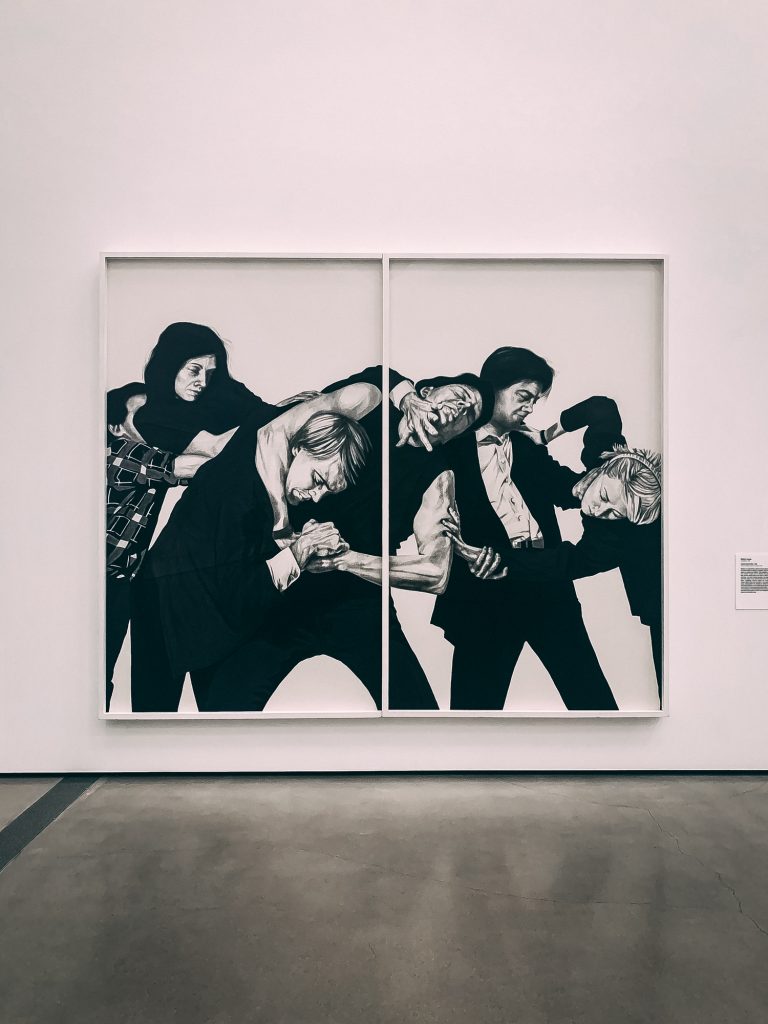 If you want even more culture in your life the you can also check out the The Museum of Contemporary Art, The Main Museum, and The FIDM Museum as they are also close by.
The Last Bookstore
When I asked Twitter what I should do in DTLA the answer that kept coming up was The Last Bookstore so, of course, I had to make it a priority.
Housed inside an old bank building this bookstore is a labyrinth of reading materials, records, and art.
This utterly stunning store has so many Instagram worthy spots, but can I ask you a favour? If you're gonna stop by and grab a snap for the 'gram if you are able to make a small purchase, please do. This isn't a just a prop and we need to keep beautiful indie business like this alive.
Santee Alley
A lively market area with hundreds of small independent stores to browse. There really is everything here from wedding dresses to designer knock offs. If you're in the mood to splurge remember to take cash with you as many vendors don't have card machines.
Santee Alley is only one small part of LA's 100 block Fashion District but many are wholesale only or sample sales. There's always something going on in the Fashion District so it's worthwhile doing your own research before you visit.
Flower Market
Also within the Fashion District is the largest flower market in the USA!
This is one for early risers as it is only open 8-12 and is $2 on a weekday and $1 on a Saturday. We missed all the action and wandered around as vendors were closing down but seeing only a small glimpse of what this market had to offer left me wanting more.
Enjoy the varied Nightlife
I'm gonna be honest, we spent most of our time lounging round The Freehand rooftop bar because we were super jet lagged BUT we were given loads of recommendations by locals which included;
Down & Out Bar, The Varnish, Brack Shop Tavern, Modern Times, Resident, Mikkeller Bar LA, Ham and Eggs Tavern, Golden Gopher, and Upstairs at the Ace.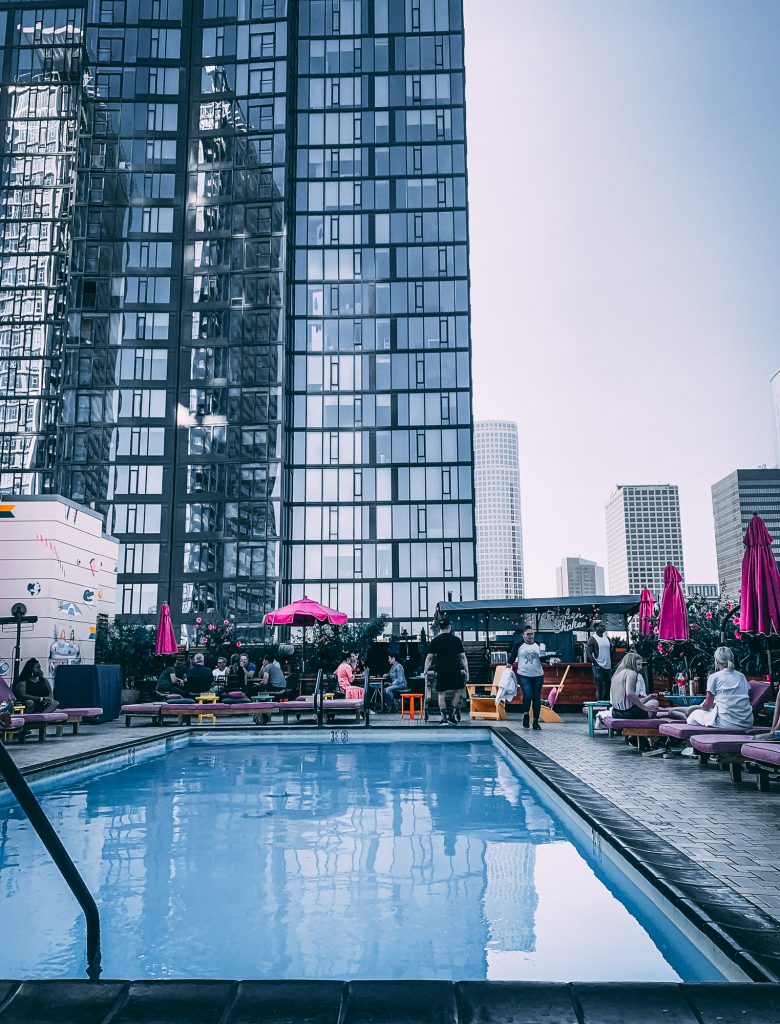 With a variety of incredible theatres and venues there is always something on in DTLA; check out listings for places like The Regent, The Orpheum, The Music Centre, LA Live, Walt Disney Concert Hall for live music and theatre or The Staples Centre for arena events.
You really are spoiled for choice when it comes to evening entertainment so check out the DTLA official website to see what's happening when you're in town.
Grand Central Market
An LA staple for food lovers since 1917! This historic LA hotspot has a great variety of food every taste.
I went for The Elvis from PBJ.LA, a classic sandwich modernised with exciting plant based flavour combos and in house nut butters. Pablo joined the huge queue for and iconic Eggslut sandwich. Both were solid breakfast choices and paired excellently with G+B coffee.
Grand Central Market is a great place to grab a bite and people watch as tourist and locals alike go about their daily business.
The Market is also conveniently located across the road from The Bradbury building, one of the famous shooting locations from Blade Runner.
Take a Coffee Break
After all that running around we needed to take a few coffee breaks. Two of our top finds were Verve, and Cognoscenti, but also in the area are solid favourites Groundwork, Blue Bottle, and Stumptown.
Verve has a super cool interior and a cute little garden both perfect to relax in. It's also a great spot for a break after mural hunting or gallery hopping as it's located right in the heart of the Arts District.
Cognoscenti has industrial vibes and was a cool spot to catch up on emails after a wander around the Fashion District. The big glass front also makes it a prime spot for people watching.
Help the Homeless
Los Angeles has huge problem with homelessness, this is especially visible in the DTLA area. As a visitor there are some small ways you can make a difference:
These are just some tiny ways on which you can do something positive to help the DTLA homeless population but there are loads more, so go ahead and do your own research.
We only had a day and a half in DTLA but as you can see we managed to pack a lot in – but there's so much more to see.
A first visit anywhere is about finding your feet but even during our brief trip I absolutely loved this part of Los Angeles. With its mix of vintage theatres, modern arts building, and rough edge it really had a unique feel.
DTLA is changing quickly. I just really hope it retains its creative heart which makes it so special.