Brimming with history, art and independent spirit, Berlin is by far one of my favourite cities in Europe.
Getting To Berlin
Plane – Berlin has two main airports Tegel and Schonefeld, both are super easy to get to by public transport and are only about 40 minutes away from the city centre.
Getting to/from Tegel requires hopping on the TXL express bus which leaves from outside the terminal and takes you to city centre stations. It's only €2.80 one way and leaves every 6 minutes.
Getting to/from Schonefeld is equally simple with the airport express train leaving from right outside the airport and is €3.30 each way.
Once you're in Berlin, public transport is just as smooth with frequent trains. All ticket machines are in various language options and there are plenty of information points. I also use Citymapper to help us find our way around.
Where to Stay
My favorite area in Berlin is Friedrichshain. It's a little grungy but filled with local hipster spots and has great transport connections to the rest of the city.
Airbnb – On our first visit we stayed in a gorgeous loft apartment right beside RAW. It was my dream apartment and location. Like with most Airbnb's, this place really made me feel like a local for the few nights we were there.
Hotel – On our latest trip I booked Michelberger, a super cool modern hotel housed in a former lighting factory. The rooms are budget friendly without scrimping on style. Though minimal, the hotel is full of character playing with texture and quirky design to make it feel homely. The huge windows, lighting design and mirror placement also made even our tiny room seem airy and spacious.
Michelberger is way more than just a place to crash at night, it also has an awesome bar specialising in wine, craft beer, cocktails, coffee, live events and a highly reviewed restaurant. Even if you're not staying there it's a great place to drop by and hangout. We loved it so much it was our bar of choice for a nightcap.
Where To Eat
According to Happy Cow, Berlin ranks 3rd behind London and New York in the vegan friendly city list – and I can see why. Eating plant based in Berlin couldn't have be easier, every menu we came across had at least two options and establishments were happy to swap out items to make a meal vegan.
Silo – Simple food done at a super high standard. A cool brunch spot that's worth queuing for. Serving up locally roasted Fjord coffee and classic breakfast options with a modern twist, in cool wooden surrounding. This is one of my must-visits when I'm in Berlin.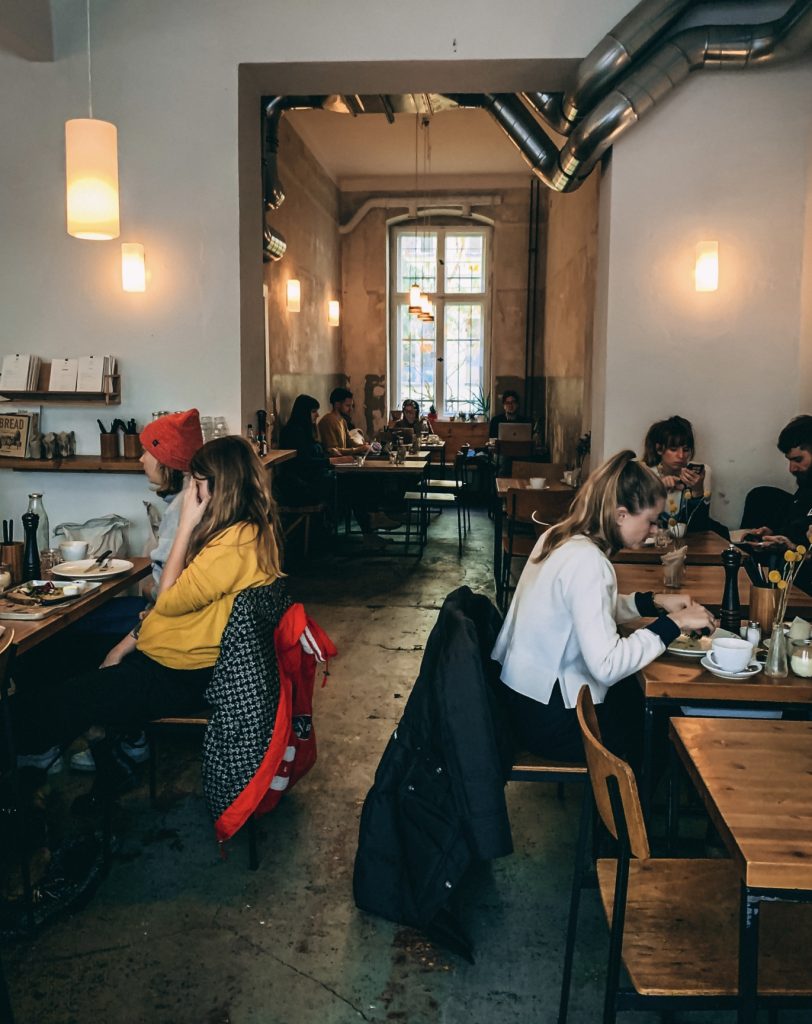 Neumans – Right across the street from Silo, Neumans prides itself on its high quality ingredients including locally roasted Andraschko coffee and in house baked bread. This place serves up beautiful fresh food options and it's laid back vibe made it my favourite new find in Berlin.
Soho House – Recommending a private members club when I don't even have my own membership might seems little odd and a lot boujee BUT if you can find yourself a member this is a great house to tag along with. A super comfortable lounge bar, various restaurants and a balcony that wraps round the building to give views over the city, Berlin House is worth a visit.
Happy Baristas – Brunch, cocktails, coffee and an awesome interior! You can easily see why this is one of my go-to Berlin spots. Sourcing coffee from Europe's best roasters these guys take their drinks seriously, but don't worry there is zero judgement if you just want a simple latte. The staff here really are happy baristas! Not only do I love the coffee here but the general vibe is so inviting.
Small House of Wonder – Starting out in Brooklyn this spot is obviously cool but also super welcoming with houseplants everywhere and a really cozy atmosphere. We arrived super late just as menu change over was taking place so the only vegan option left was the Zucchini Noodle Salad which was small but really tasty and left me wanting to return to try more – which has got to be a good sign.
Aunt Benny – A simple park side café owned by siblings from Toronto offering up freshly baked goods, amazing bagels and delicious sharing boards.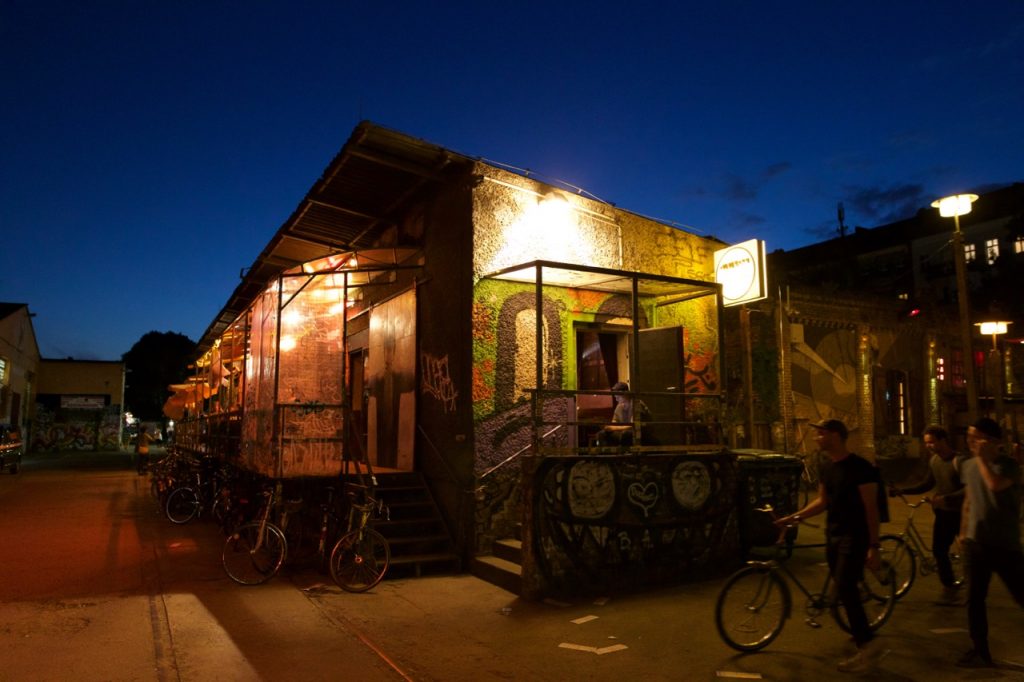 Emma Pea – A bar selling vegetarian and vegan street food in the heart of RAW Gelände.
St. Oberholz – A cool café once again taking pride in their craft coffee. The space sprawls over two floors of the stunning old Aschinger building
St. Oberholz is more than just a great café, it also has co-working spaces, meeting rooms and even apartments for startups – all along with a fantastic community vibe.
Alternative Things To Do in Berlin
Berlin is a city full of history but once you've checked off Checkpoint Charlie, The Memorial of Murdered Jews, The Brandenburg Gate, The Eastside Gallery and so many more, here are a few other alternative suggestions:
Alternative Walking Tour – I normally hate organised fun but Pablo insisted we joined in a tour on our last trip, and I'm so glad he did. Our guide was absolutely filled with knowledge and combined Berlin's history with it's street art scene. On paper, this might seem like an unlikely pairing but they merged together to create a fascinating look at Berlin both past and present. I've got a full post on the tour if you want to read more.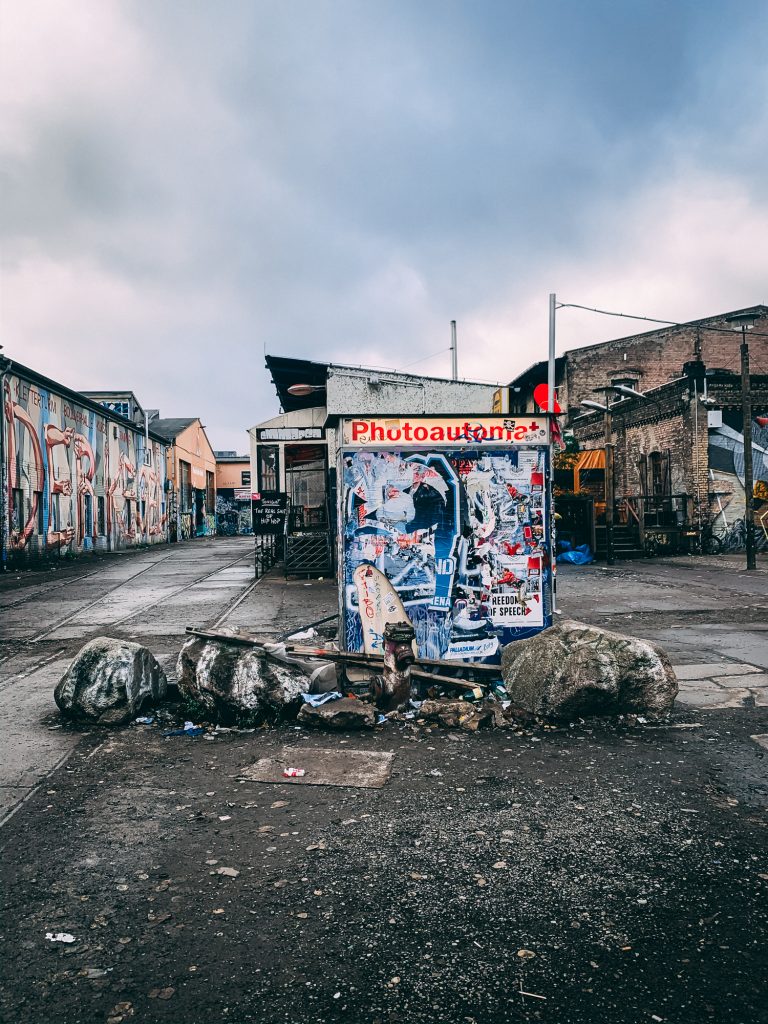 Taschen Shop – Originating in Germany it was awesome to see the books that have adorned our shelves for years in their home country. The store is more than just a bookshop and is like a small gallery, housing some exclusive additions and artwork as well as books to purchase. Located in a luxurious part of town it's also a fun place to visit and pretend you're fancy for the afternoon.
Templehof – I'm forever going to be grateful for this recommendation from Leigh. Templehof was once a bustling airport, now a public park where you can walk, run, cycle or (in our case) skate the runways.
We only planned to stay an hour but it was such a unique experience it took up most of our day. We rented our boards from super friendly skate store Hase. On our next visit we'd definitely do the same but also book onto a tour to explore the old terminal.
Flea Market at Boxhagener Platz An eclectic mix of food, fashion, vintage and home-ware. I wish I had more space in my luggage as this place was an absolute treasure trove, but instead I had to settle for a black iced coffee, a cookie, and a few patches.
Kruetzberg – A gritty neighbourhood, with hipster cafes and awesome indie store like Coretex Records.
RAW Gelände – A jumble of derelict buildings making up an artistic area, celebrating urban cultures through exhibitions, artist residencies, workshops, and gigs. The area also houses a climbing wall, skate park, and plenty of places to grab a beer.
Ramones Museum – A small museum whose entry fee includes a beer. The Ramones Museum is a fascinating look at mega fan Flo Hayer's personal collection of memorabilia. If you're a punk fan it's a really fun place to hangout. I've got a full post from our last trip if you want to read more.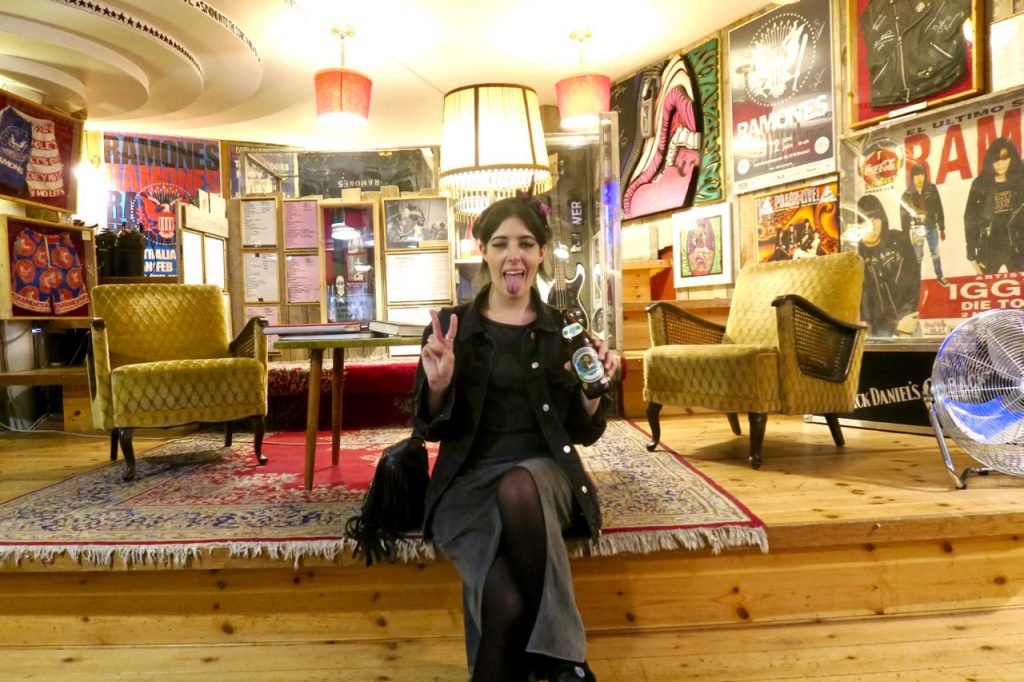 Christmas Market – Not exactly alternative but Berlin's Christmas Markets are the perfect way to feel festive and support local makers.
For me Berlin has everything from art and culture, to the unexpected which is why it's one of my favourite cities in Europe.