2019 was a wild ride wasn't it? I feel like I may have aged a decade in the past 12 months. I'm not gonna go into all the disturbing politics of 2019, because I think (like most people) I'm exhausted, and beyond frustrated.
Despite the nonstop waves of bad news, for me personally 2019 has had some big highlights – so that's what I'm going to concentrate on:
2019 started with planning a wedding in 12 weeks!
I don't wanna bang on about my wedding as I've already done that in a couple of other blog posts but for someone who wasn't remotely bothered about getting married, I actually really like it.
Nothing has changed in the grand scheme of things, we are exactly the same as before we said I do. The only actual differences are that I have a new cool last name (my choice obviously) and a new ring from The Great Frog.
Building my business
2019 was meant to be all about growth – which it totally was – just not quite as much as I had planned.
At the start of the year I put together my wholesale catalogue and sent my products out to the world. Despite lots of research and effort 99.9% of the people I emailed didn't even bother responding. Not the outcome I was hoping for BUT on the bright side I'm now stocked in two stores: Quirq in Glasgow and Terra Chokubaiten in East London.
Selling in person also didn't go exactly to plan with many markets turning down my application to trade. I'm not here to dwell on rejection but instead celebrate those that are willing to take a leap of faith on my quirky little brand.
Both E17 Designers and Urban Makers are local organisations that have been a great support in helping me bring my work to stalls around East London. Getting out there and meeting customers has been an awesome experience and hopefully something I'll do more of next year.
One of the many great thing about having an online based business is that I have the capability of reaching the right people. Those that get my vibe and don't expect me to try and fit in.
In 2020 I want to seek out more of my people as well as nurturing the community I already have.
Making Space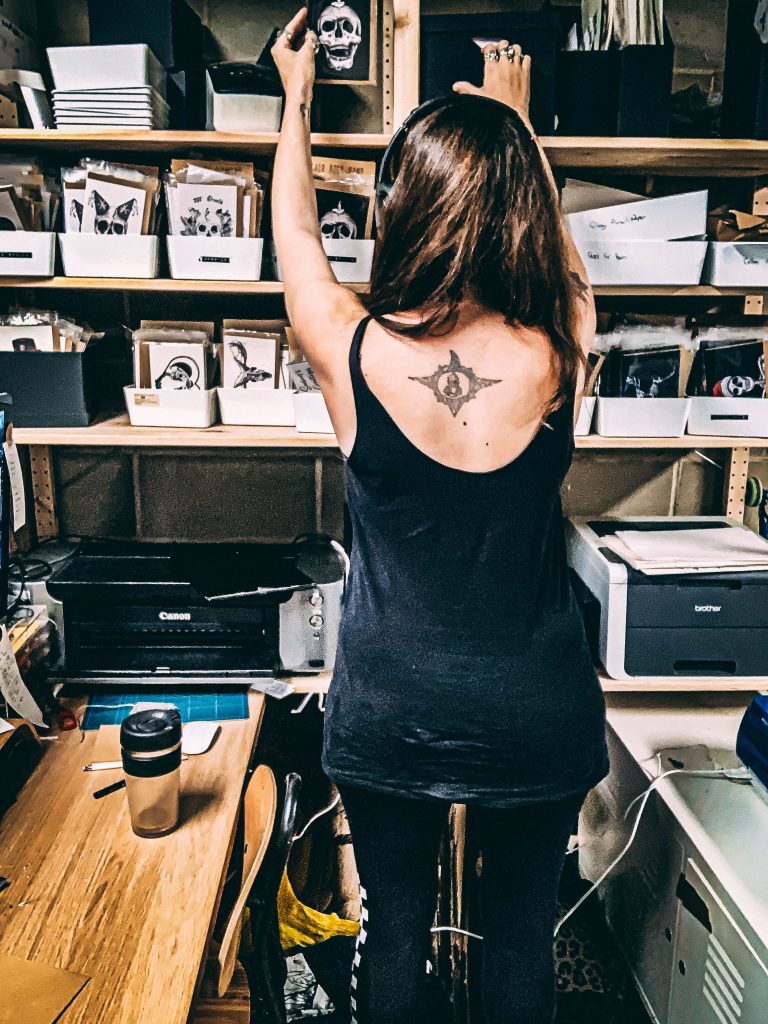 If you follow me on instagram you might have noticed I worked A LOT in 2019. Though at points the burnout was real, a bonus of loving what I do means that all I want to do is more.
As my style and brand expanded I outgrew my small space at home and went on the hunt for a new studio. That's when I found Yonder: an awesome multifunctional space with a great community, workshop, co-working space, climbing gym, yoga studio, and vegetarian cafe.
I found my perfect place, making my busiest period of the year much less stressful that clambering over stock at home.
Health and Well-Being
Last year, like so many before, I battled with chronic illness; but with constant perseverance and a new GP I finally have a referral to a specialist – which is progress.
Running a business whilst being ill had its challenges but this year I have been so much better at balance and though my social life has taken a major hit my health and work have benefitted.
Travel
Travel had to take a bit of a backseat again this year but we did manage to go on a super last minute trip to Amsterdam, spend a weekend in Berlin and honeymoon in California!
We were only able to escape to the sun due to the generosity of our friends and family, as instead of wedding gifts people chipped in for our honeymoon. Travel will always mean more to both of us than material gifts and we now have memories to treasure forever.
Exploring creative places like DTLA, Venice Beach and San Diego, as well as road tripping through the desert to Palm Springs and Joshua Tree gave me a much needed break and SO much inspiration.
2019 hasn't always been easy but I've learned a lot. So here's to a new decade, new challenges and more growth personally and professionally.