Going out for a coffee is genuinely one of my greatest pleasures in life. The coffee shop is where I write, plan, and socialise.
Those weekly outings around my favourite East London spots are one of the things I am missing most at the moment. So here are 7 of my favourites that deliver to your door:
Coffee with a sense of humour as dark as an americano.
This East London born roastery makes amazing coffee to suit every taste and comes in the best packaging that is inspired by the occult and motorbikes.
Their cafe I Will Kill Again was regularly featured on my Instagram stories, and man do I miss spending Sundays in their packed railway arch, eating the best vegan brunch in town. Unfortunately, due to Covid my favourite spot is no more but at least I can make a cup of coffee at home and pretend.
Starting in 1998 from a small coffee shop in New Zealand, Ozone has continued to grow it business and coffee selection.
This is my favourite place to go for a treat brunch and I cannot wait to celebrate the end of lockdown with a green brekkie.
This is where my craft coffee journey began.
When I first moved to London a decade ago I still thought Starbucks was the best brew but that was until I ventured into this East London hotspot. I'd never had a coffee like it, and never looked back.
Starting back in 1989 and using their hot air roast method you're in safe hands with an Allpress coffee.
Perky's is a relatively new find for me, only stumbling across their coffee on a walk around Walthamstow.
Since then I have been a regular at their Magistrates cafe and even get their coffee posted through my door on a monthly basis.
A family run business starting out similarly to All Press with a coffee van – it's been awesome to see this business grow.
Caravan Kings Cross is always where I take friends and family who only have a few hours in town. I love the buzzy atmosphere the food and, of course, the epic coffee.
Caravan's aim is to source the best beans in the most sustainable manner, something I can totally get behind.
As an added bonus they have recently partnered with Crosstown to create a coffee which pairs perfectly with their incredible vegan doughnuts. I've of course had both delivered to my house so I can fully indulge.
Another East London born coffee specialist; Climpson and Son's strive for flavour and have a passion for fair trade and sustainability.
I can be most often be spotted in the Broadway Market branch grabbing a coffee to go and sitting in London Fields. I don't think I have ever been in without a queue, which speaks for itself.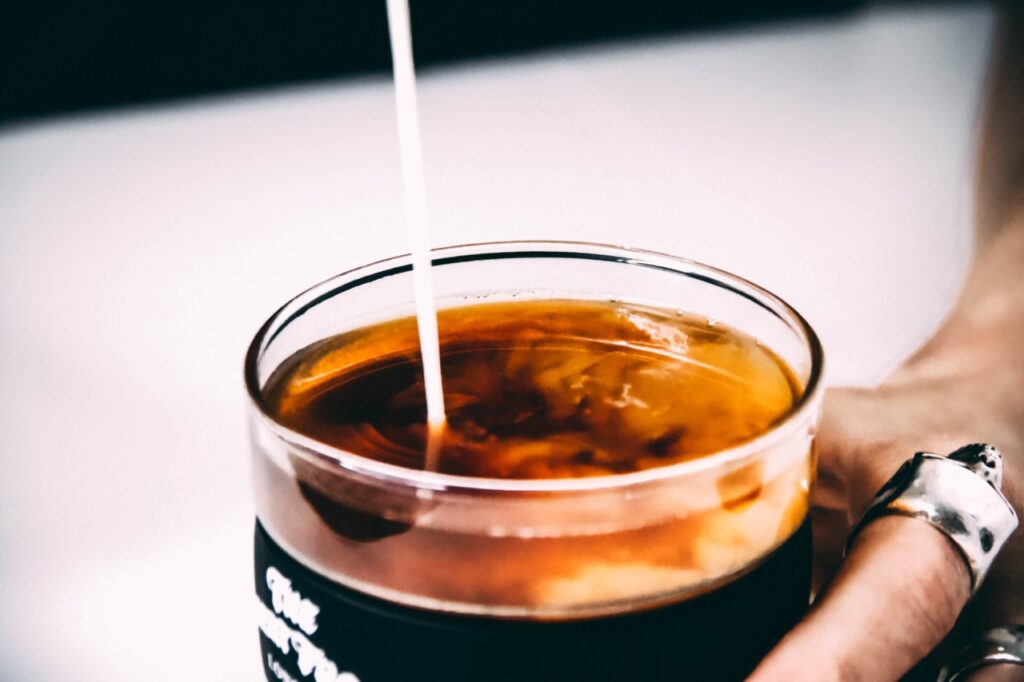 First drawn in by it's topical, punny, outdoor signage in Old Street, Grind has remained one of my top spots for coffee, cocktail, or craft beer.
Now with coffee shops and cafes throughout London it's one of my go to meeting spots anytime of the day.
Order coffee your way in a cute tin, whole bean or even Nespresso pods!
Can't wait for an after work drink again soon but in the meantime I'll make do with all the coffee.
Extras To Take Your Coffee to The Next Level
Starting with this epic T-shirt from GRL made.
Oat Milk
The general public seem to have caught onto the fact that oat milk is ace and it is hard to come by right now but not to worry indie brand Minor Figures have got you covered with home delivery.
If you want to order everything from the same place Minor Figures also make ace coffee, including Nitro cold brew.
Additionally they support others in the coffee industry by showcasing other roasters and giving you a mega 30% off when you purchase the featured coffee. Finally, if that wasn't enough they'll also give 5% of your order to your favourite local coffee shop.
Mugs
I personally love to drink out of my KeepCup even in the house as it makes me feel like I'm in a coffee shop. Mine is from The Great Frog, and Pablo's is from the aforementioned Dark Arts Coffee.
If you're more of a mug person some of my other favourites come from PandCo.
Accessories
I love my aeropress for solo coffees but since Pablo and I are hanging together for the foreseeable future next on my list is a Chemex. You can get brewing accessories from most of the coffee shops above.
Learn
If you to expand your coffee knowledge Perky Blenders and Caravan have great guides available online and Dark Arts have an ace YouTube channel.
I love supporting local businesses so please let me know your favourite coffee spots in the comments below.