I never thought Las Vegas was my scene; I'm not a gambler (because I don't have the money to throw away) and even though I am partial to drinking I am more of chilled out dive bar kind of chick. It wasn't until I actually visited Vegas I realised how much more there was to enjoy. Here are my top picks of things to do if don't' drink or gamble, or just need a break from the craziness of the strip.
See a show
There are literally hundreds of shows on in Vegas each night so whether you are into magic, drag, comedy, acrobatics, or celebrity impersonations, there is something to suit every taste. On our last visit we went to see Criss Angel's Mindfreak which was an incredible high energy, high drama performance.
Top on my list for next time is Zombie Burlesque, which we didn't get the chance to see in January as some shows that are more risqué don't run on a Sunday.
Be someone else for the day
You can be whoever you want to be on holiday because you're surrounded by strangers but, like everything else, Vegas takes this a step further.
Love CSI? Then you can get a hands on experience of solving a crime including a visit to the lab with your collected evidence.
If you prefer the glam life you can transform into a famous Las Vegas Show Girl for the day, learning the ins and outs of  what it takes to work the strip from professionals.
Check Out Some Live Music
With so many venues there are also lots of artists that visit Vegas as part of their tour so check what's on when you're in town.
There are also some incredible resident artists including Britney, Celine Dion, and Lionel Richie – so there is no shortage of musical talent in town.
Don't have the cash to splash out on expensive tickets? Many of the hotels and bars have some awesome bands playing for free. I've had a blast chilling out to Jazz in the Paris hotel, rocking out in Margaritaville in Flamingo and partying hard to a heavy metal mariachi band in The Hard Rock – all without spending a penny.
Take a tour
Hop on a classic Open Top Bus, or go in style in a limousine, pink cadillac, hummer, scooter, Harley Davidson, or even by helicopter!
Go Shopping
Vegas is a shopper's paradise, from high end stores to two outlet malls there are endless stores to choose from.
Las Vegas is one of my favourite places to shop as the stores on the strip are all beautifully laid out, offer a relaxed experience, and are open late.
The contrast to this is the outlets. My personal favourite is the South Premium Outlets as it is outdoors and has more skate and snowboard brands. Because even high rollers love a bargain these malls are a little busier, however, it's so worth battling the crowds when you can get Nike trainers for $30.
The newest shopping experience is the Downtown Containers Park made of shipping containers centred round a play area and with plenty of eateries this place is perfect if you have kids.
Take On An Insane Thrill Ride
Thrill seekers rejoice! There are plenty of places in Vegas to get your adrenaline pumping.
The Big Apple Coaster at Las Vegas' New York-New York whizzes you through Manhattan's sights with huge drops, loops, and awesome views of the Strip.
Stratosphere hotel roof is the location of thrill rides The Bigshot, Insanity and X-Scream; these are absolutely not for those who are afraid of heights at 1,149 feet above the strip. If those are not enough for you can also take the express route back down to the strip by jumping off the side of the tower.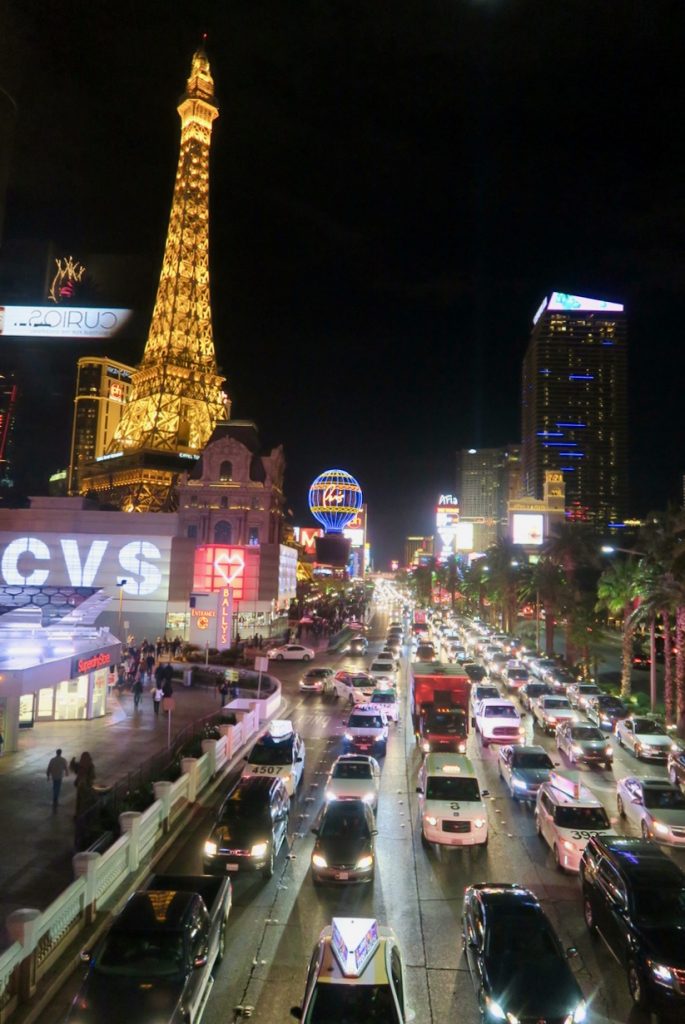 Circus Circus Canyon has a variety of mega rides including the Blaster roller coaster, The Chaos a Tilt-a-Whirl taken to the next level and the El Loco inverted sling shot.
The Slotzilla Soar is a two story zip line attraction starting from the world's biggest slot machine that takes you across the Fremont Experience either by the zip or even more insane zoom line.
The Voodoo Zipline sits between the Rio hotel's two towers, 800 feet above the Vegas Strip, with speeds up to 35 miles per hour.
Wet N Wild water themed amusement park with 25 rides perfect for hot summer days in the desert.
Eat Your Way Round Town
Though it may not seem like it on first appearance with famous food chain restaurants signs glowing from every angle, you can eat your way around the world in Vegas.
You can have almost every country on one plate in one of the many famous buffets, which I have been told by my fellow travelers are of an excellent standard. Sadly I missed out as whilst they ate sushi, steak and ice cream for breakfast I was in hour four of eight of having my head in the toilet after partying WAY too hard the night before.
With so much cash floating around there are also plenty of high end and Michelin Star restaurants to choose from. Though totally not my style, if you win big why not treat yourself.
You can also have a memorable experience eating in Vegas, with quirky eateries such as the Heart Attack Grill, a hospital themed diner that fully embraces the stereotypical huge portions served in America. If you don't manage to finish your mammoth meal you get spanked by a nurse with a paddle. If that sound a little too intense there are more relaxed, yet fun, dining experiences – like chowing down in the Eiffel Tower looking down on the Vegas strip.
Though on first glance Vegas may seem like a row of burger joints and Starbucks it has way more to offer, suiting every culinary style.
Get behind the wheel and speed
Whether it's dirt bikes, dune buggies, horse riding or NASCAR you're into, you can jump in the hotseat of the transportation of your dreams in and around Vegas.
Get some culture at a museum
Want some culture or just a way to entertain the kids? There are plenty of museums to choose from.
The Mob Museum where you can learn how organised crime has shaped Vegas history.
The Neon Museum is one that I can HIGHLY recommend; learning about the signs that used to light up the strip was a fascinating insight to how Vegas has changed and developed.
These are my top picks however there is also Discovery Children's Museum, Natural History Museum, Nevada State Museum, and Marjorie Barrick Museum of Art to explore.
Leave the city
Need a break from the fast pace of Las Vegas then you're in luck; there are plenty of stunning sights just a stone's throw away from the city, including Hoover Dam, Grand Canyon and Lake Mead.
These are just some of the activities that are available in and around Vegas that don't include drinking or gambling – if you have any other recommendations hit me up in the comments below.