It's been an entire week of being my own boss which I know is no time at all, however, even in just seven days I feel like I've learned a few lessons very quickly. I am fortunate in that my last job, despite having a brilliant boss, I pretty much self managed and also juggled many tasks and, sometimes, roles. This set me off on the right foot, however, I already feel like I have picked up a few key habits in the infancy of this new chapter in my life.
Since this is a big decision for me I thought it would be fun to take you guys on the journey with me by writing a little series where I check in and share the process of being my own boss for the first time.
So, on that note, here are some of the routines that have made me most productive over the past week, and others I know I need to improve on;
Eating and Drinking Well
In my old office I had a water bottle I filled up at different intervals throughout the day but because I don't have a a formal routine anymore I keep forgetting to drink water. This seems like such a small thing but the days I don't set reminders to get a glass of water every few hours I notice my concentration dropping, I get headaches, and in general am a bit useless. To try and stay hydrated I'm going to get myself one of those cool litre bottles to have next to me on my desk so I can sip away without having to think about it.
On a similar note, getting into some sort of routine with food is high on my list. Just now it's either a famine or a feast, some days I get so into what I am doing I forget to feed myself and other days I am so unmotivated that I snack ALL day! I really need to get some sort of healthy happy medium sorted ASAP.
Taking Breaks
When working from home it is far too easy be attached to my laptop from 7am until 11pm because there is an endless amount of stuff I need to get done – however, burn out is real and it's so important to take time out and let your brain refresh. It's all about working smart not hard.
Leaving The House
The constant mental battle between whether I should leave the house or stay in and get work done is a tough one. Right now my office is my house which can make me feel super trapped and uninspired, but then outside things take time to get to and cost money. I absolutely cannot stay in all the time – I feel way too caged – so I'm trying to find a balance between leaving the house without ruining my productivity.
The current plan of action is to go for a walk everyday, work from a cafe twice a week and make plans with friends once a week; we'll see how that goes over the next couple of months and if I still can't find my creative rhythm I might have to look at getting a studio space elsewhere.
Getting Ready
Though it is very tempting to stay comfortable in my pajamas all day I am beyond unproductive when I don't get up, get dressed, put my makeup on and sit at my desk. Maybe because I've been institutionalised but getting ready each morning really does make a difference to my output. That doesn't mean I put a suit on and slick back my hair every day, in fact, one of the things I am loving most about working for myself is that my work uniform has changed from minimal makeup, tidy hair and office clothing to whatever I want to do to my face, messy/dirty hair, a band tee, and some form of ripped denim.
Organisation is important
I am chaotic to say the least but suddenly having the realisation that this business is all on me has meant I've needed to get myself more organised. I'm not going to crack out a fancy bullet journal anytime soon, but for the first time I have started using my calendar properly and something you would loosely call a list system. I have lived my entire life just winging it so finding a way of organising myself is definitely going to be a work in progress.
I've also become a tidy person for the first time in my life, I have found that I cannot get focussed if there is mess anywhere in the house which is great for Pablo but boring and annoying for me.
Prioritising
I am juggling a lot of different projects just now and it's very easy to feel completely overwhelmed, so I am trying to learn how to prioritise. If I write down everything I need to do I feel like I am drowning so instead I have a daily, weekly, and monthly lists so I can see what needs my attention first and nothing gets forgotten about. Obviously life (especially mine) is not linear and unexpected things will crop up, but at least if the top priorities are ticked off I feel like I have at least achieved something that week.
I don't need to struggle alone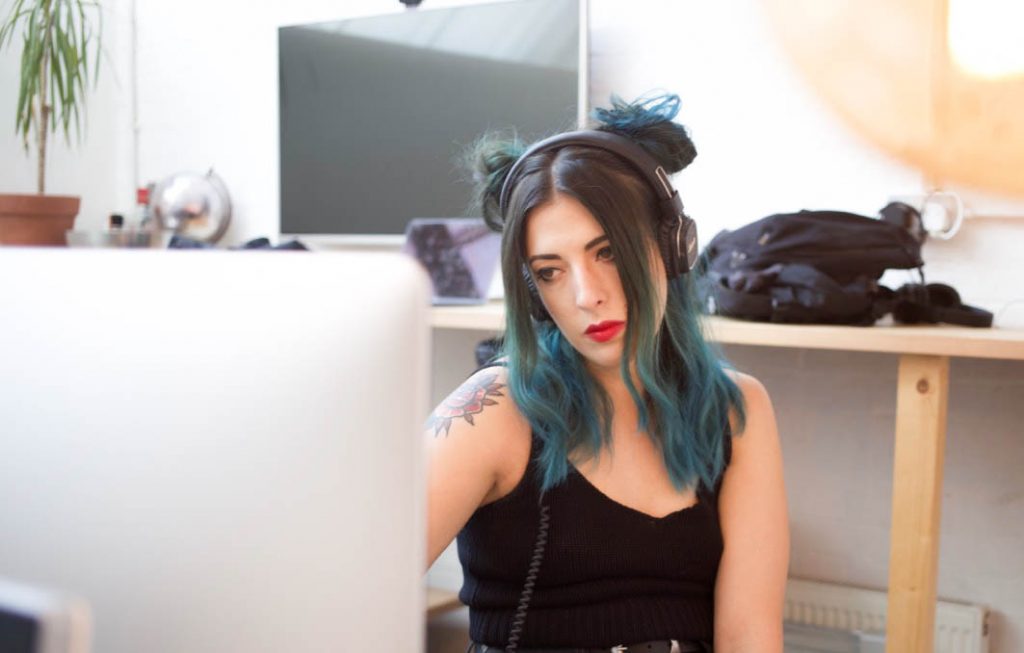 My initial reaction was to try and do everything by myself, however, I have an amazing network of people online and in real life that have far more experience than I do, and it would be silly of me not to learn from them.
Pablo has run his own successful company for 6 years and is so much better at all the boring admin stuff than I am so he's been an awesome help in setting up the more grown up elements of businessing.
Using Jasmine's blog auditing service was unbelievably useful in giving me confidence on how to improve this space.
Chatting to Natasha and Maryam over coffee last week which wasn't just fun but also left me reassured that I was not alone in how I was feeling.
My buddy Ruth already has her own company XOXO Designs and has been an absolute star sending me one of her beautiful cards with words of encouragement.
In addition to hanging out in real life, the internet has been full of great resources and support. Some of the content I have found super helpful are posts from Ella Masters, From Roses, Pack Your Passport and Ellis's video on Tips For Going Freelance.
Also, massive thank you to everyone who sent words of encouragement after my last blog post which announced all these big life changes.
There you have it, despite only being one week in there are many lessons to be learned by being my own boss; these are just the foundations and I am both nervous and excited about all the other things I have yet to learn.
Like this post then pin it for later