You may have noticed that I've been a little quiet over the past few weeks, and that's because we've only gone and bought our first house together!
Disclaimer: the purchase of the house was all Pablo's hard work and savings but since we've been together over a decade now what's mine is yours and yours is mine comes into play with these big life decisions.
Where to start
Buying a house is bloody difficult at the best of times, but in London it really seemed impossible and we had to make a few compromises to be able to get a place to call our own.
Firstly we downsized from a two bed maisonette to a teeny tiny one bed. Though it may be a bit of a squeeze to begin with it is worth losing a room so we could get a period property… with a garden! Outdoor space was a major must-have for both of us, we lived in a ground floor flat with zero light and zero outdoor space for 6 years and both craved a little slice of nature to call our own.
Another compromise was location; we were in a super well connected part of East London which was so close to the tube station I could practically tap in from my bed. The new place has transport options but is further East and the closest train stations are about half a mile away.
Finding the perfect pad in London, within budget is like a trying to find a unicorn, so it's important to prioritise what you want and be willing to give up on a few conveniences.
For us, a property with a garden, charm, a parking space, and local amenities was important and though a shorter commute and an extra room would have been lovely, they were at the bottom of our list of priorities.
The Hunt Is On
Speaking of priorities buying a house was never really one for me, I am a live in the moment adventurous type and the only thing I am good at saving is airmiles. Pablo however is a much more long term planner and ever since I have known him has had pots of money squirreled away for his future. Despite having a huge deposit saved, the house purchase was not easy. First up was finding a property in our price range, still in East London, and which was not a new build. So the hunt began.
Wearing full outfit from LOTD.com*
We were actually pretty fortunate as this was only the third house we saw. The first property was ok but not for us, and the second one was revolting – the house itself was pretty nice but the landlord had God knows how many people crammed into the small space and there was stuff and filth everywhere. Despite being in a great area, and structurally sound, there was no way we had the time or money to get the house back into a livable condition.
Feeling a little disheartened by our first house viewing experience we met some of our best mates at Wood St Coffee for brunch. Calum had sent us a property a week earlier and was really keen for us to check it out, we originally thought it was a little far away but over brunch he managed to convince us it was worth booking a viewing. Calum has been our joint best friend for 11 years now, introduced Pabs and I to each other and was actually my landlord for 3 years – so, naturally, we trusted his opinion.
A week later we were stood in the property that we would eventually call home. Seriously guys, everyone needs a Calum in their life because without him I think Pablo and I would be utterly lost.
We've found the house now what?
That viewing was back in September, our move in date was 20th December because house things take SO much time!
Between then and now there were a lot of back and forths and ups and downs. Pablo is extremely organised with his finances but even then a financial advisor was a worthwhile expense; Andrew was excellent, explained all the complicated financial jargon in a down to earth manner, sourced a mortgage that was most suitable for us, and was always on hand to answer any questions we had.
First up was putting in an offer. Getting advice from Andrew, we went in way under the asking price, then met in middle.
Next was actually getting the mortgage, which was actually much more difficult than we first anticipated and the it transpired that the bank would lend us much less than we first thought due to Pablo having his own business. This obviously made things more difficult so we had to reel in our expectations and up our deposit.
The next couple of months seemed like a high stakes waiting game; English laws are very different from those in Scotland and I still can't believe that sellers can pull out at pretty much anytime. The entire process was stressful, the not knowing and constantly chasing all parties involved: our solicitors, the vendor's solicitors, estate agents, the lender, banks, insurers to name but a few.
I think the key combination for a smooth as possible purchase is to be organised and persistent in equal measures.
Getting The Keys
I had only seen the property once for ten minutes and was desperate to get in and put our stamp on it. I was so enthusiastic the day we got the keys that 5 minutes after walking through the front door I had a paint brunch in hand and was ready to make this house a home.
The next day we hired movers to get all our belongings in place and now, a couple of weeks in, this place really feels like ours already.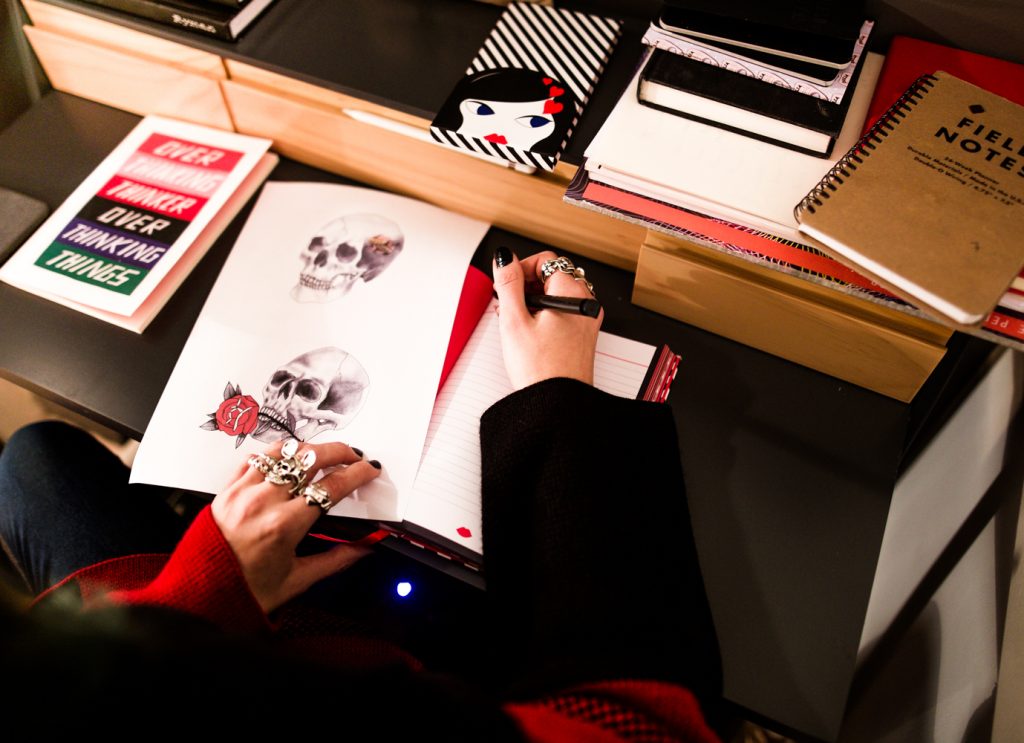 There is obviously much more to  do and things will take time but it's already coming together so nicely. The next few months will be waiting in for deliveries and tinkering with each room making it more and more us.
I still can't quite believe that this little house is all ours. I never thought we would be able to reach this goal, especially with our out of control avocado habit. This is a brand new, different type of adventure for both Pablo and I and I can't wait to see what we create together.
5 Tips for buying a house
1 – Prioritise what you really want
2 – Get your finances in order (you'll need enough for a deposit, stamp duty, lawyers fees, moving costs, actually paying the mortgage, mortgage fees, and final bills)
3 – Don't be afraid to ask questions; this is a big purchase, so no matter how small, ask! Don't let wordy, jargon filled communications form the solicitors throw you, make them explain in plain English
4 – Negotiate
5 – Be persistent
Want to take a tour of our new pad? Then head on over to my YouTube Channel
* These items were sent complementary of LOTD.com but as always all opinions and style choices are my own